Senator Heidi Heitkamp Recognized for Her Support of Life Sciences Innovation
Aug 28, 2017
Senator Heidi Heitkamp receives the 2017 Champion of Health Care Innovation Award from members of the North Dakota Rural Health Association, North Dakota Chapter of the American Academy of Pediatrics, Tobacco Free North Dakota, North Dakota Autism Connection, and North Dakota Healthcare Access Network.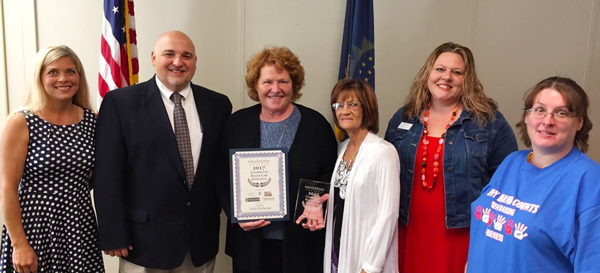 The 2017 Champion of Health Care Innovation Award is given to members of the House and Senate who have shown commitment to principles which encourage innovation in the Life Sciences.
The American Life Sciences Innovation Council acknowledges House and Senate members who have demonstrated leadership on some or all of the following issues:
Expressing concern or calling for repeal of the Independent Payment Advisory Board.
Protecting Medicare Parts B and D from arbitrary payment changes.
Supporting timely reauthorization of the Prescription Drug User-fee and Medical Device User-fee programs.
Support for the 21st Century Cures Act and its timely implementation.