NRCNAA Director Earns $385,000 AARP Urban Indian Elder Project Research Award
Dec 4, 2018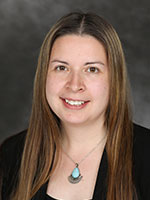 Collette Adamsen, PhD, recently received $285,000, the first installment of a 25 ½-month, $385,000 American Association of Retired Persons award titled "Urban Indian Elder Project." Adamsen is the director of the National Resource Center on Native American Aging (NRCNAA) at the Center for Rural Health at the University of North Dakota (UND) School of Medicine & Health Sciences.
"Your research not only extends to your own professional and scholarly endeavors, but also contributes to the overall well-being of the people of our state and nation," wrote Grant McGimpsey, vice president for Research and Economic Development at UND, in congratulating Adamsen.
The NRCNAA's mission is to identify and increase awareness of Native elder health and social issues and to empower Native people to develop community-based solutions. As NRCNAA director, Adamsen's many responsibilities include conducting research on health disparities among American Indian/Alaska Native/Native Hawaiian elders across the country.