NDBIN Playing Cards Promote Brain Injury Awareness
Feb 11, 2019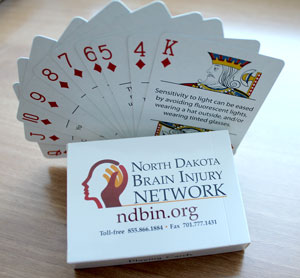 The North Dakota Brain Injury Network (NDBIN) is offering free decks of brain injury playing cards as a new promotional and educational item. Each of the 52 cards in the deck feature unique brain injury facts. The NDBIN playing cards are designed to help families, friends, and survivors create conversation and understanding around brain injury.
In addition, card games such as go-fish, war, rummy, kings in the corner, are a great way to help workout the brain. It is our hope that these cards will open dialogue and create more awareness about brain injury.
The decks of cards are available to North Dakota residents and quantities are limited.