NDBIN Staff Shares Tips on Brain Injury Prevention
Jul 10, 2019
Progressive Agricultural Safety Day

Staff from the North Dakota Brain Injury Network (NDBIN) at the Center for Rural Health talked about brain injury prevention at the Progressive Agricultural Safety Day June 27. The event was held at Stump Lake Historical Village in Nelson County, North Dakota.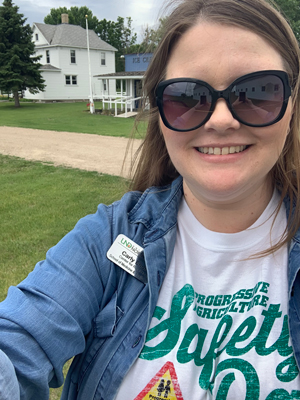 Carly Endres, NDBIN outreach coordinator, discussed brain injury prevention with about 50 children ages 7-10.
"We looked at the numbers in North Dakota and talked about how I try to help people to not hurt their brains, but if they do hurt their brains, they can call me, and we try to find ways to help them," Endres said. "We discussed the importance of our brains and how they help our bodies. We also talked about common ways people injure their brains and about the ways to prevent those injuries – wearing helmets, walking like a penguin in winter, etc."
Endres passed out decks of cards that share brain injury facts and talked about how playing games is a great way to keep your brain healthy. Her presentation also included hands-on activities to get the children involved.
"We made pipe cleaner neurons together, and then we played Telephone with our neurons to show the importance of messages staying the same and how when our brain gets injured our messages don't stay the same," she said.