Quinn Discusses Hidden Impacts of Brain Injury at Governor's Summit
Aug 15, 2019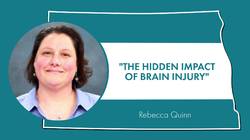 Rebecca Quinn, director of the North Dakota Brain Injury Network, presented on "The Hidden Impacts of Brain Injury" on August 15 in Jamestown, North Dakota.
Quinn's presentation was part of the Governor's Summit on Innovative Education, where teachers, community leaders, administrators, and students gathered to look at innovative instruction, personalized learning, and opportunities to prepare students for life after high school. Quinn's presentation included information on the prevalence of brain injury in North Dakota, potential long-term impacts, recognizing brain injury, and ways to help with recovery.
Read the full Grand Forks Herald news article at https://www.grandforksherald.com/news/education/4612968-Local-expert-to-discuss-impacts-of-brain-injury-at-Governors-first-education-summit.