CHNA Team Visited 26 North Dakota Communities in 2019
Oct 9, 2019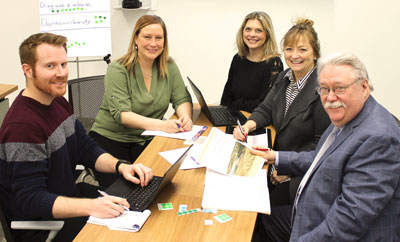 The Community Health Needs Assessment (CHNA) team from the Center for Rural Health (CRH) traveled to 26 North Dakota communities in 2019. The team works with Critical Access Hospitals (CAHs), public health units, and community members to gather input for CHNAs, which are tools that helps CAHs and local public health units bring focus to their communities' changing rural health needs.
The CRH team includes Brad Gibbens, Lynette Dickson, Kylie Nissen, Shawn Larson, and Julie Reiten.
CRH Assisted These Communities
Ashley
Bottineau
Bowman
Cando
Carrington
Cooperstown
Crosby
Devils Lake
Dickinson
Elgin
Garrison
Grafton
Harvey
Hazen
Langdon
Lisbon
McVille
Northwood
Oakes
Park River
Rolla
Stanley
Tioga
Turtle Lake
Valley City
Williston
View North Dakota CAHs CHNA results and implementation plans.