Elder Abuse Is Topic of Gray's October Conference Presentations
Oct 11, 2019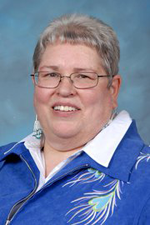 Jacque Gray, associate director and research professor at the CRH, is talking about elder abuse at conferences this month.
Gray presented "Elderly Maltreatment in Rural Communities and Indian Country: How Is It Different?" at the Virginia Department of Criminal Justice Services Envision Conference in Harrisonburg, Virginia, October 10-11.
She is speaking on "Disrespect: Elder Abuse Financial Exploitation and Identity Theft, Part 1 and Part 2" at the Florida Seminole Tribe Healing the Circle Symposium in Hollywood, Florida, October 14-18.