Gray Recognized for Public Service
Mar 11, 2020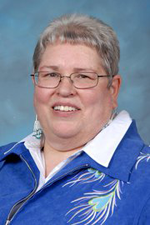 Jacque Gray, PhD, was named a fellow of the American Psychological Association Division 18: Psychologists in Public Service.
Gray is a Choctaw/Cherokee research associate professor and associate director of Indigenous Programs at the Center for Rural Health (CRH) at the University of North Dakota School of Medicine & Health Sciences. She also serves as director of the National Indigenous Elder Justice Initiative (NIEJI) at the CRH. NIEJI has been funded since the fall of 2011 to address elder abuse in Indian Country.
In addition, Gray is the lead for the Strong Heart Study Psychosocial Work Group, a longitudinal study of cardiovascular disease and metabolic disorder in American Indians that began in 1988. She has worked to address health, mental health, and health disparities across Indian Country and internationally, working with Māori suicide prevention for more than 35 years. Gray participated in the White House Conference on Aging in 2015 to address elder justice issues and has worked with tribes across the U.S. for more than 30 years.