Dakota Conference Award Recipients Announced
Jun 8, 2020
Each year, healthcare professionals across the state are honored with awards at the Dakota Conference on Rural and Public Health. The annual event allows healthcare professionals, educators, and students several days to share their strategies for sustaining healthy North Dakota communities, and offers workshops, keynote speakers, poster presentations, and an awards banquet, during which the awardees are celebrated. These peer-nominated recipients are recognized as those who have demonstrated exemplary commitment to improving the healthcare of rural North Dakota residents.
While the 2020 conference has been canceled due to the COVID-19 pandemic, recipients will be recognized at the 2021 Dakota Conference awards banquet on June 3 in Bismarck.
Rural Health Awards
Public Health Awards
Dakota Conference on Rural and Public Health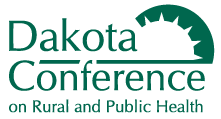 For more information about the Dakota Conference on Rural and Public Health, visit ruralhealth.und.edu/dakota-conference.
The Dakota Conference is a joint effort by Altru Health System of Grand Forks, the North Dakota Public Health Association, the North Dakota Rural Health Association, the University of North Dakota (UND) College of Nursing & Professional Disciplines, and the Center for Rural Health at the UND School of Medicine & Health Sciences.