Gray Named Fellow for American Psychological Association
Jul 22, 2020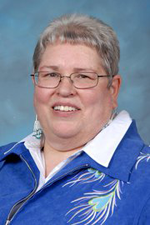 Jacqueline Gray, PhD, has been named a fellow of the Society for Women Psychologists (Division 35) and for Psychologists in Public Service (Division 18) of the American Psychological Association (APA).
Dr. Gray is a research associate professor for the Department of Population Health and the associate director of Center for Rural Health (CRH) for Indigenous programs at the University of North Dakota School of Medicine & Health Sciences.
Being named a Fellow status is an honor bestowed upon APA members who have shown evidence of unusual and outstanding contributions or performance in the field of psychology. Fellow status requires that a person's work has had a national impact on the field of psychology beyond a local, state or regional level, according to the APA. Each division focuses on a specialty within the field of psychology.
"Dr. Gray is rather amazing."
"Dr. Gray is rather amazing," said Brad Gibbens, acting director of the CRH. "As a colleague, I have worked with Jacque for many years. Where to start? She is simultaneously very committed not only to the field of psychology but also to bringing access and service to Native people. The Native population, particularly Native elders, are important to her. She is a good mentor and takes that seriously. As an academic she is also prolific in her research and publications. She has authored and edited many manuscripts and book chapters. For me, I value her friendship and good advice. As I said, rather an amazing person."
She is the principle investigator and director of the National Indigenous Elder Justice Initiative (NIEJI). She started the American Indian Health Research Conference in 2002 and spearheaded its continuation for 18 years.
To be considered for Fellow status, professionals must have letters of nomination from existing fellows. One of the nomination letters describes the impact Dr. Gray has had on the area of Native American health.
"Dr. Gray is a teacher, mentor, author, and advocate."
"Dr. Gray is a teacher, mentor, author, and advocate," wrote Dr. Diane J. Willis, Professor Emeritus, Department of Pediatrics at the University of Oklahoma Health Sciences Center. "Careful review of her CV illustrates that she has been involved on multiple levels with exceptionally important work on behalf of Native Americans.
"This is a major strength, where Dr. Gray has outpaced many psychologists across the country. Conducting Native American research, training young scholars, and conducting research on reservations has been desperately missing in the field of psychology to date. Dr. Gray has helped to fill that gap by training over 100 students and now overseeing the largest Native American research team in the nation."