North Dakota State Office of Rural Health Receives Federal Funding
Sep 4, 2020
The State Office of Rural Health (SORH) will be able to provide additional support to North Dakota thanks to increased funding from the Federal Office of Rural Health Policy (FORHP). Annual funding increased to $230,000 this year, allowing for additional services to begin. SORH is a federal-state partnership that helps rural communities build their healthcare services through collaborations and initiatives with a wide range of partners across the state. SORH staff and offices are housed within the Center for Rural Health (CRH) within the University of North Dakota (UND) School of Medicine & Health Sciences (SMHS).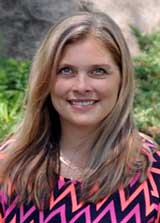 "In rural populations there tends to be lower income, increased rates of uninsured, and higher morbidity and mortality rates," said Kylie Nissen, director of the North Dakota SORH. "These are things that make living and succeeding more of a challenge. The state office is here to provide resources to our rural communities. A SORH works to improve access to quality healthcare for rural people in a variety of ways. If people aren't healthy, they are less likely to be able to hold a job, put food on the table, and provide a positive contribution to their community."
Increase in Funding and Services
This year SORH received an increase of $50,000. With this extra funding, it will provide a COVID-19 funding tracking system for Critical Access Hospitals to help the facilities accurately track the federal and state dollars they receive as a direct result of COVID-19 funding; increase aid to facilities with their implementation plans in response to their Community Health Needs Assessment findings; provide additional technical assistance to Rural Health Clinics and public health units; and develop/conduct an Apgar project to work with rural communities to analyze and increase their readiness to host students/residents.
State Investment
Not all SORHs reside within a university setting. Because North Dakota's office is housed within the UND SMHS, which provides many benefits that contribute to a strong statewide program.
"We get directly, the buy-in," said Nissen, "through the SMHS facility, staff, and faculty who have expertise in so many different areas that we can tap into, along with research resources. The entire CRH is considered part of the state office, which gives us more capacity to do more work and have a greater impact across the state."
There is a stipulation with the SORH dollars from FORHP that they must be matched 3:1. This means that for every dollar, there must be $3 given through state funding. North Dakota's investment in SORH is $690,000, most of which aids in workforce development, helping to recruit and retain medical professionals throughout the state.
Support and services provided by SORH for the state of North Dakota include:
Questions?
For more information on the North Dakota SORH, contact Kylie Nissen at (701) 777-5380 or kylie.nissen@und.edu.