Rural Health Research Gateway Receives Federal Funding
Sep 4, 2020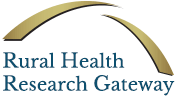 The Rural Health Research Gateway recently received funding of $135,000 from the Health Resources & Services Administration. Gateway has served as an online library providing access to research and findings of the Federal Office of Rural Health Policy (FORHP)-funded Rural Health Research Centers (RHRC) since 1997.
Housed on Gateway
Gateway is housed at the Center for Rural Health within the University of North Dakota School of Medicine & Health Sciences in Grand Forks, North Dakota.
"There are nearly a hundred rural health research products produced by FORHP-funded research centers each year," said Shawnda Schroeder, PhD, principal investigator for Gateway, "and Gateway is funded with the sole purpose of ensuring that these products are accessed by those in the community who can use the results to make positive change for the health of rural people."
Popular Topics
In the last year, more than 90 new rural health research products were added to the Gateway website, which had nearly 60,000 site visitors.
The top three topics searched topics on the website during that time period included:
In the last year, Gateway also sent out 61 new research alerts to subscribers. Research alerts are emails letting subscribers know when new publications are available.
FORHP currently funds RHRCs and Rural Health Policy Analysis Initiatives located throughout the U.S. Each year, specific research projects for the RHRCs are selected jointly by the RHRC directors and FORHP. Topics are chosen to have a timely impact on policy debates and decisions at both the federal and state levels.
For More Information