Honor Your Native Elder Veterans - Sharing Stories from Indian Country
Oct 14, 2020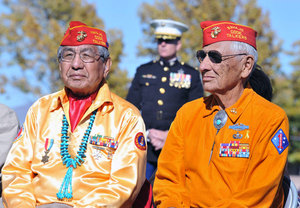 November is Native American Heritage Month and November 11 is Veterans Day. During the month of November, the National Resource Center on Native American Aging (NRCNAA) would like to honor and recognize Native Elders who have served in the U.S. Armed Forces. We are asking the Title VI programs to either share a story about an elder Native veteran or share one of their favorite stories or advice.
Photos and Stories
Please submit:
A picture of the veteran
State the military branch they served
State the time frame they served
A brief story they would like to share or a story you would like to share about them
Submissions
Submissions will be shared on the NRCNAA Facebook page and website throughout the month of November. Please email submissions to info@nrcnna.org or collette.adamsen@und.edu. We are excited to honor these brave men and women!
Questions?
Contact Collette Adamsen at collette.adamsen@und.edu or (800) 896-7628.