Rural Public Health Department Keeps County "ON THE MOVE"
Oct 15, 2020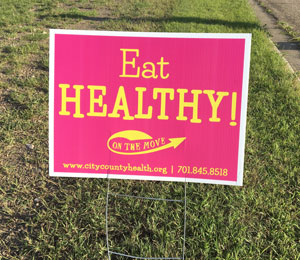 City-County Health District (CCHD) has been working to keep residents of Valley City, North Dakota, and Barnes County ON THE MOVE for more than 20 years! Barnes County ON THE MOVE is a community partnership and public health program created to encourage the community to get active and eat healthy.
Thanks to a three-year grant from the Health Resources & Services Administration (HRSA), even more work in programming as well as policy, systems, and environmental change is being made possible in Barnes County.
CCHD is the local public health department for Barnes County and is located in Valley City. Its functions include protecting and improving the health of people and the community by promoting healthy lifestyles, reducing chronic disease, and working to reduce opioid, tobacco, and alcohol use, to name a few of its goals. Obesity and being overweight among area residents has also been a battle CCHD has been fighting. The HRSA grant will help immensely with this issue.
"A high percentage of people in the U.S. are obese or overweight," said Theresa Will, administrator of CCHD. "Nationally, 69% of adults are overweight or obese, and in North Dakota, those percentages track a little higher.
We wrote the grant to target people age 10-17, to decrease childhood obesity. From self-reported weights, over 37% of students this age are obese or overweight, again, higher than the national average. We want to be able to make a difference."
Partnerships
The ON THE MOVE partnership has expanded over the years. Originally there were three partners, CCHD, CHI Mercy Health, and what is now Sanford Health. Now there are 18 nonprofit or governmental organizations in the partnership.
"With the HRSA grant," continued Will, "we can do more work in the community and in the schools. We know that if you want to make a change, you have to get everyone on board – students, parents, the whole community."
Currently, CCHD is two and a half years into a three-year grant. Due to the pandemic, some grant projects have not been completed, but the hope is the remaining funds will be allowed to carry over into a fourth year.
Successes
Recent successes of the program include:
Placing heart rate monitors in all Barnes County schools. Physical education (PE) teachers are using the monitors to help students track activity.
Helping Valley City Public Schools conduct a health index.
Placing five mobile kitchens carts in every county school to help teachers/dietitians create healthy recipes in the classroom that fit into classroom lessons in all subject areas.
Promoting healthy concessions at games.
Offering summer cooking classes for children ages 8-13, virtual or in person.
Offering after-school activity programming.
Providing training for PE teachers to write a PE curriculum for K-12 students.
Partnering with Valley City State University (VCSU) student athletes to promote physical activity in grades K-6 in all county schools.
Providing trainings on physical activity and healthy snacks for the staff of the three largest childcare centers.
Teaching seven-week units in county schools on heart health, which culminated in a Family, Fun, and Fitness night where students taught their parents about heart health.
"We are seeing parents who want their children to be more active," said Will. "We have been able to give physical education teachers additional tools to work with so they can lead COVID-19-safe classes with their students. The kids are now getting the info from many angles – parents, community, schools, physical education, even from individual teachers – in a small-dose manner. The message is getting across to the students."
Let's Walk Valley City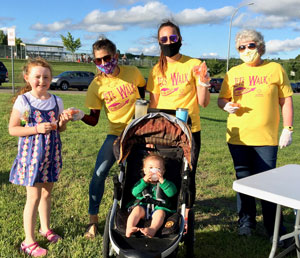 One event that is part of ON THE MOVE is Let's Walk Valley City. More than 500 people attended this community event in both 2019 and 2020. More than 40 booths focused on healthy food samples and healthy activities were set up around a walking path.
In 2020, the decision was made to still hold this event to allow the community to enjoy a COVID-19-safe activity. Everything was outdoors and people wore masks and were encouraged to socially distance. There were musicians around many city blocks and food samples were given out in prepackaged containers, all handed out with gloved hands.
"People were appreciative to have something safe to do while getting outside," said Will. "We knew we could control it so it could be safe and healthy."
Funding
In the early days, sales of test tube visuals aids, designed by dietitian Sharon Buhr, now chair of the CCHD board, funded the work of ON THE MOVE. The educational test tube visuals actually contain real fat, salt, or sugar and depict the amount of these substances that are found in various foods and the relationship between consumption and heart disease and cancer. They are sold internationally.
Today, the HRSA grant allows more to be done, in a manner that will outlast the three-year grant program. "We really have seen lasting change over the years at the schools," said Will.
The immediate consortium for the current grant includes CCHD, Valley City Public Schools, and Barnes County Extension. Additional support comes from other ON THE MOVE partners, including VCSU, the Open Door Center, CHI Mercy Health, and Sanford Health.
The Center for Rural Health, within the University of North Dakota School of Medicine & Health Sciences, provides evaluation of the HRSA grant aspect of ON THE MOVE.