Dakota Conference Scholarship Funds
Feb 9, 2021
Deadline: March 17, 2021 at 5:00 pm Central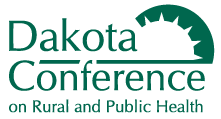 Scholarship funds are available to cover registration costs for the Dakota Conference on Rural and Public Health through the State Office of Rural Health grant program at the Center for Rural Health. The funds will cover the conference registration fee only – hotel, travel, preconference, and banquet costs are not covered. Preference will be given to applicants who are attending the conference for the first time.
The 2021 Dakota Conference will be held through a virtual platform, but we remain committed to bringing you all of the great information, training, and resources you are used to receiving at our in-person conferences.
Questions?
For more information, visit the Dakota Conference website, or contact Amy Breigenzer at (701) 777-8002.