ROPES Project Provides Tools for Opioid Prevention
Dec 8, 2020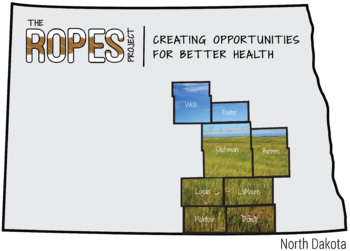 A remarkable eight-county partnership in North Dakota has shown promise and success at preventing alcohol and substance abuse. The Rural Opioid Prevention Education and Support (ROPES) Project is in its third year of helping to curb the opioid epidemic that has taken hold across the country, but the program is accomplishing so much more.
City-County Health District (CCHD) is the local public health department for Barnes County, North Dakota, and is located out of Valley City, 60 miles west of Fargo. The eight-county region had a higher incidence of alcohol and substance use problems, according to data from the Department of Health and Human Services.
"Five years ago we saw a need to begin working on alcohol and opioid prevention," said Theresa Will, administrator of CCHD. "North Dakota had received the State Opioid Response Funds, so we were starting with Narcan training and looking to get medication assisted treatment; and providing education on substance use and prevention. We did this work as an individual county. At that time, Fargo was seeing an increase in opioid overdoses and we were right down the road."
CCHD applied for the prevention portion of the grant and received funding from the Health Resources & Services Administration. The funding is a 3-year grant, $250,000 a year, through September 2021. Since some of the programming had to be delayed due to the current pandemic, some funds will remain and will likely be used in 2022.
The ROPES Project
For CCHD, a bigger, multi-agency approach was needed. They developed the ROPES Project and were joined by the counties of: Barnes, Dickey, Foster, LaMoure, Logan, McIntosh, Stutsman, and Wells.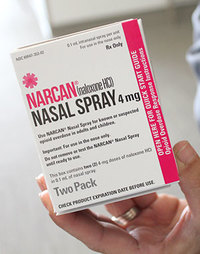 All of the counties involved are working on similar goals, including offering:
Narcan training and making sure it is available
Collaborating with schools that are providing education on the Adverse Childhood Experiences program
Providing peer support
Substance use prevention
Harm reduction services
Offering Mental Health First Aid training
Through the ROPES Project grant, counties are responsible for organizing the local programming, but they reach out and work together to talk about what other opportunities might be available that places could able to take advantage of in their communities. CCHD pays each of the counties for four hours of time each week, for this work.
Peer Support
Peer support is an important part of the ROPES Project. Peer support involves a person who has experience with substance use and is in long-term recovery helping others get over some of the bumps they could be currently encountering. Often someone has just been released from jail. They may not have a driver's license, or a job, or a place to live.
"Peer support can help with these things," said Will. "Everyone needs to have a purpose and we try to help them find that purpose. It really makes a difference to hear from someone, rather than talking to a nurse, or other provider. Sometimes it seems impossible to get to that spot in recovery, and move forward, unless you have someone who has lived it and done it and can give them the encouragement they need."
Medication-Assisted Therapy
Each county is able to individualize its approach to programming. CCHD developed a partnership with Family HealthCare, a Federally Qualified Health Center, in Fargo. Before COVID-19, staff from Family Healthcare would go to Valley City every other week and see clients who did not have a healthcare provider, or health insurance, and needed a quick visit.
The goal has been to increase access for people who do not currently use the system. The second part of the partnership allows Family Healthcare to provide medication-assisted therapy. Foster County has also developed a relationship with a local pharmacy.
"Medication-assisted therapy requires a special waiver," said Will, "and there was no one in Valley City who offered the service. Having this as an option is important. Again with the arrival of COVID-19, these in-person visits have stopped, but we need this service in Barnes County."
Mental Health First Aid
Mental Health First Aid has been another important part of the program. Public health units have been trained as Mental Health First Aid trainers. The training gives people the skills and tools they need to deal with a mental health or substance use problem immediately, until they are able to get additional help.
"It's a great program for lay people," said Will. "It helps explain how to approach someone with a mental health problem. What would you do in this situation? It also helps people to understand what an auditory hallucination is, as an example. There is a lot of great activities we do, and now we just started the Youth Mental Health First Aid for adults who work with youth, so we are looking forward to seeing the program grow."
Syringe Services
Syringe services is another piece of the program. People who are currently using drugs are able to see a nurse to request clean needles or equipment. The goal is to decrease hepatitis C and HIV transmission. Often once they are talking with a nurse, they are able to access additional services simply because they came in for the syringe service.
CCHD works with South Central Human Service Center (SCHSC) to have an outreach clinic in Valley City. SCHSC has space in the CCHD building, along with counselors, a psychiatrist, and group sessions. This allows patients to stay and receive treatment in Valley City instead of having to travel to Jamestown.
SCHSC and the ROPES Project share office space on the same floor, so when a nurse sees someone who is actively using drugs and talks with them about services or counseling available, a counselor can be there quickly to talk with the participant about moving forward in treatment, if they are ready to take that next step.
The Center for Rural Health, within the University of North Dakota School of Medicine & Health Sciences, provides evaluation of some of the CCHD programming, including the ROPES Project.
Questions?
Katie Beyer
Prevention Specialist, City-County Health District
kbeyer@barnescounty.us
(701) 845-8518