Dakota Conference Sponsor/Exhibitor Virtual Opportunities
Feb 26, 2021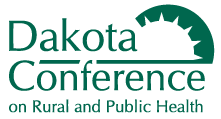 The 36th Annual Dakota Conference on Rural and Public Health taking place June 2-4, will be presented virtually. This opens up new opportunities to engage with participants!
The Dakota Conference provides an opportunity for hundreds of healthcare professionals, educators, and students to share strategies for building and sustaining healthy communities in North Dakota. It includes two and one half days of pre and post conference meetings, keynote speakers, breakout sessions, poster presentations, and an awards banquet.
Since the 2021 conference is virtual, we have added additional exhibitor benefits to provide more opportunity to be in front of participants.
Expanded Standard Sponsor/Exhibitor Benefits
Virtual exhibit space
Opportunity to speak for 5 or 10 minutes in front of audience (speaking opportunities will be assigned based on level and order received)
Exposure to hundreds of healthcare professionals
Organization name and contact information included in the conference program and website
Contact list of conference registrants in a pdf format 2 days prior to the conference for all exhibit levels (2 weeks prior for higher levels)
Organization name prominently displayed before all keynote speaker sessions
Opportunity for participants to schedule private meetings with exhibitors
Opportunity to post a video for participants to view on the website
Become a Sponsor/Exhibitor
Register today to become a sponsor/exhibitor. Deadline for registration is March 18.
Questions?
For more information, visit the Dakota Conference website or contact Amy Breigenzer at (701) 777-8002.
---
Coordinated and Facilitated By:
Center for Rural Health at the University of North Dakota (UND) School of Medicine & Health Sciences
Supported By: