Jacque Gray Retirement Celebration
Sep 14, 2021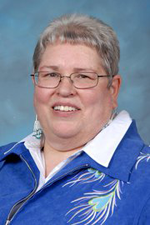 Jacque Gray, PhD, associate director for Indigenous programs, program director for the National Indigenous Elder Justice Initiative (NIEJI), and research associate professor for the Department of Population Health, is retiring after 22 years.
Reception
Help celebrate her retirement, while respecting social distance protocols, with a drive-by celebration to honor her commitment and service to Indigenous and UND communities on September 29, from 4:00 – 5:00 pm Central. Please drive past the front doors of the School of Medicine & Health Sciences, 1301 North Columbia Road (parking lot). Celebration refreshments will be handed out as you drive through. Please feel free to decorate your car. Don't forget to HONK, WAVE, and CHEER as you go by.
Share Memories
We want to present Jacque with a collection of photos, well wishes, fond memories, and humorous stories. Please help us by sending your stories to Jan Flatin at janice.flatin@und.edu by September 20. Your contributions will be presented to her in a memory book.
Career
Jacque came to North Dakota in 1999 as a visiting professor in the UND Department of Counseling, and in 2001 she became a post-doctoral fellow at the Grand Forks Human Nutrition Research Center of the U.S. Department of Agriculture Agricultural Research Service. She joined CRH in 2004.
Jacque has research experience in the areas of health and mental health, including suicide prevention, elder abuse, rural veteran health services, spirituality and health, psychometrics, and wellness and nutrition in adolescents. Her research with American Indians includes elder abuse, health, depression, anxiety, veteran's health services, spirituality, suicide, career counseling, and nutrition. She developed a rural crisis intervention program and an adolescent suicide prevention program in Oklahoma that have been adopted across the state and began the first viable divorced parent education program in Oklahoma. She is licensed as a professional counselor in North Dakota and was part of a rural health training grant during her psychology internship at the University of Wyoming that put multidisciplinary teams in rural/frontier settings around the state.
Education
Jacque earned a bachelor of science degree in laboratory technology from the University of Oklahoma. Her master of education degree is in guidance and counseling psychology from the University of Oklahoma, and her doctorate is in applied behavioral studies with a specialty in counseling psychology from Oklahoma State University.