Register Now for Early Bird Rates on Dakota Conference
Jan 3, 2022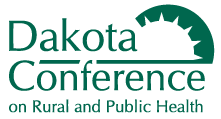 The 37th Annual Dakota Conference on Rural and Public Health is taking place June 8-10 in Grand Forks, North Dakota at the Alerus Center.
The Dakota Conference provides an opportunity for over 300 healthcare professionals, educators, and students to share strategies for building and sustaining healthy communities in North Dakota. It includes two and one half days of preconference workshops, keynote speakers, breakout sessions, poster presentations, and an awards banquet.
Conference Registration
Early bird registration and payment are due May 24. Register now to save!
Questions?
For more information, visit the Dakota Conference website, or contact Kylie Nissen at (701) 777-5380.
---
Conference is Coordinated and Facilitated By:
Center for Rural Health at the University of North Dakota (UND) School of Medicine & Health Sciences
Supported By: