Center for Rural Health Welcomes Two New Employees
Nov 9, 2021
The Center for Rural Health is pleased to introduce two new full-time employees.
Alexandria (Alley) Thoelke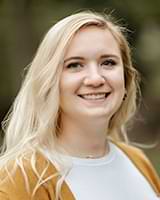 Alley is an outreach specialist with the Center for Rural Health (CRH).
In this position, Alley works with the federally funded Rural Health Information Hub (RHIhub) program. She collaborates with organizations across the country to spread awareness of the services that RHIhub offers. She focuses on the development, creation, and maintenance of the website and social media as well as planning, overseeing webinars, and coordinating the dissemination of promotional materials and activities.
Before working at RHIhub, Alley held various positions within the University of North Dakota (UND), including operating as a brand journalist at Marketing and Creative Services, graphic designer with the UND Nistler College of Business and Administration, and video producer at the Ralph Engelstad Arena.
Alley received her bachelor's degree in communications from UND as well as a certificate in writing, editing, and publishing.
Brittany Dryburgh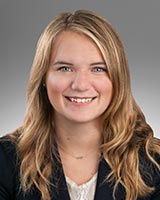 Brittany is a project coordinator with CRH.
Brittany's responsibilities include working with the State Office of Rural Health, the Dakota Conference on Rural and Public Health, and the Rural Collaborative Opportunities for Occupational Learning in Health (R-COOL-Health) Scrubs Program. Before joining CRH, Brittany was a senior clinical research specialist at Sanford Health, working with the Roger Maris Cancer Center in Fargo, North Dakota.
Originally from Bertha, Minnesota, Brittany earned a bachelor's degree, majoring in microbiology and chemistry from North Dakota State University in Fargo. She is currently pursuing a master's degree in public health from Chamberlain University.