Davis Souvannasacd Named to Native American 40 Under 40
Jan 10, 2022
Courtney Davis Souvannasacd, outreach coordinator for the Center for Rural Health (CRH), was named to the Native American 40 Under 40 by the National Center for American Indian Enterprise Development.
Every year, 40 American Indian, Alaska Native, and Native Hawaiian (AI/AN/NH) leaders under the age of 40 are inducted in recognition of their leadership, initiative, dedication, and for making significant contributions in their business and/or in their community. The Native American 40 Under 40 awardees were honored at a reception in Maricopa, Arizona in December.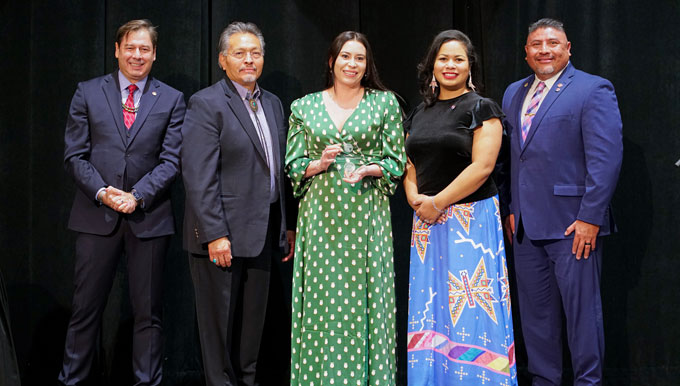 Minogitoon
Davis Souvannasacd, a member of the Turtle Mountain Band of Chippewa, was celebrated for her work in founding Minogitoon (Grow it Well). Minogitoon, which means Grow it Well in the Ojibwe language, is an urban Indigenous-led nonprofit that will have a holistic focus on Indigenous education, arts, and well-being. It was part of the action plan she developed for the for the Native Governance Center's (NGC) Native Nations Rebuilders program.
"As an Indigenous woman," Davis Souvannasacd said, "the notion of giving yourself in service to your community is natural; it is an honor. I have been taught that one way for Indigenous people to help their communities is to grow as a person through education, addressing challenges, and creating connections."
She continued, "It is a great privilege to receive this award and, coincidentally, was on the same day of the NGC Rebuilder's graduation ceremony and my father's birthday. I was able to celebrate with both parents as they attended the event with me."
Community Work
Davis Souvannasacd has shown her leadership through other efforts in her local community, such as her work to bring annual Indigenous Peoples Day celebrations to Grand Forks, North Dakota, and the University of North Dakota (UND).
She was also instrumental in the display and dedication of flags at a local school district, representing five tribal nations in North Dakota:
The dedication of the flags – and their display in the Grand Forks Public Schools' (GFPS) district headquarters – is significant because it conveys to Native American students that they are welcome and included.
In 2018, she facilitated the installation of North Dakota tribal flags in the Grand Forks City Council Chambers.
Davis Souvannasacd is board president of High Plains Fair Housing Center in Grand Forks.
NRCNAA
In her role as outreach coordinator, Davis Souvannasacd works with the National Resource Center on Native American Aging (NRCNAA) within CRH. In her role she serves as a communications liaison between grant project leadership, researchers, funders, partners, and AI/AN/NH urban centers, and tribal stakeholders.
She is responsible for outreach, engagement, and recruitment of AI/AN/NH urban centers and tribal Title VI programs and serves as a resource person for AI/AN/NH aging issues for both tribal and urban populations.
Experience and Education
Prior to joining CRH, she was a program coordinator for American Indian Student Services and the Native American Program liaison for GFPS. She serves on the UND Indians into Medicine Tribal Advisory Board and the North Dakota Superintendent's Family Engagement Cabinet.
Originally from Belcourt, North Dakota, Davis Souvannasacd attended Turtle Mountain Community College and UND. She earned an associate of arts degree in business administration and a bachelor's degree in business administration. She is currently pursuing a master's degree in educational studies.