Gray Receives Elder Abuse Award from the University of Southern California
Mar 3, 2022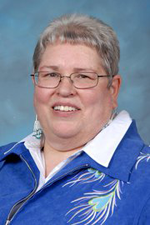 A lifetime of service needs no award, but one has found a deserving recipient in Jacque Gray, PhD. Gray, director of the National Indigenous Elder Justice Initiative (NIEJI) at the Center for Rural Health (CRH) at the University of North Dakota (UND) School of Medicine & Health Sciences (SMHS), has been honored as the recipient of the prestigious Georgia Anetzberger Award from the University of Southern California (USC) Judith D. Tamkin International Symposium Research Committee.
"Dr. Gray's pioneering career in Elder abuse research, policy, and practice have had a profound and indelible impact in advancing the goals of Elder justice within tribal communities and across the nation. As a leader, she has been tirelessly dedicated to increasing awareness of, and improving the national response to, Elder mistreatment," the committee stated.
Symposium on Elder Abuse
The award was presented at the USC Judith D. Tamkin International Symposium on Elder Abuse on February 24-25, in Pasadena, California. The mission of the symposium is to create safe and healthy environments for all older adults, here and across the world, by bringing researchers, practitioners, advocates, thought leaders, lawmakers, and other stakeholders together to share findings, strategize solutions, and help shape and propel the field of Elder justice.
Profound Thanks
In her acceptance speech, Gray referenced the team she continues to work with.
"I'd like to express my heartfelt thanks to the staff of NIEJI and all their hard work with the Elder services and Elder justice programs with American Indian tribes, Alaskan Villages, and Hawaiian Homesteads. I have not done any of this alone. You have been walking shoulder-to-shoulder with me on this journey. Although the people and names have changed over the years, I've had great partners in the work.
"Above all, I thank the Native Elders throughout this country who have provided their wisdom and guidance to the work done at NIEJI. They have told us what was needed to address Elder abuse and we did our best to put legs to their wisdom."
Career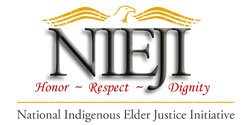 Gray came to North Dakota in 1999 as a visiting professor in the UND Department of Counseling. She joined CRH in 2004, where she recently retired as a research associate professor. She continues to serve as director of NIEJI.
Gray has research experience in the areas of health and mental health, including suicide prevention, Elder abuse, rural veteran health services, spirituality and health, psychometrics, and wellness and nutrition in adolescents. Her research with American Indians includes Elder abuse, health, depression, anxiety, veteran's health services, spirituality, suicide, career counseling, and nutrition. She has authored numerous publications, given presentations, and conducted training all over the world.