Rural Emergency Medical Services Counts Receives Abstract Competition Award
Jul 12, 2022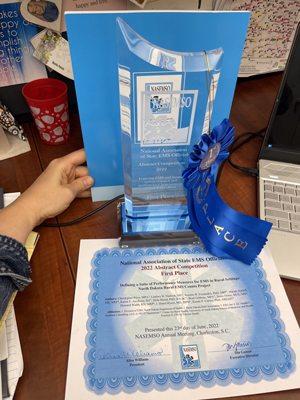 The North Dakota Rural Emergency Medical Services (EMS) Counts was awarded first prize for their abstract and poster at the National Association of State EMS Officials (NASEMSO) conference in Charleston, South Carolina, in June. Authors in the project included Lindsey Narloch, Christopher Price, Antonio Fernandez, Nikiah Nudell, Karen Jacobson, Shila Blend, Brad Gibbens, Jason Eblen, Howard Walth, J. Brent Myers, and Remle Crowe.
Flex EMS Supplement Grant
This project is funded by the Medicare Rural Hospital Flexibility Program (Flex) EMS Supplement grant and aims to implement a demonstration project on data collection and reporting for a set of rural-relevant EMS quality measures. The Flex EMS Supplement was applied for through a partnership between the Center for Rural Health and the North Dakota EMS Association. The funds received was one of only four funding opportunities nationwide. The overall concept involves seeking stakeholder consensus during the measure selection process, testing the processes for collection, training and mentoring, and reporting the measures.
National Association of State EMS Officials
NASEMSO is the key organization that brings all state EMS offices together. Lindsey Narloch, project manager for Rural EMS Counts, discusses the benefits of the presenting at the NASEMSO conference. "One of our performance measures was to disseminate measures locally and nationally to promote widespread use and tracking of improvement trends," she said. "The conference and our objectives were a natural fit."
Impact in North Dakota
The results of Rural EMS Counts will improve EMS agencies access to measures, and ultimately improve quality of services. "At the click of a button, EMS agencies are able to see their performance metrics, view performance statewide, and compare them to a national benchmark," Narloch said. "These measures are available to all North Dakota Ambulance Services, no matter what software they use. Agencies have been empowered to improve their documentation and care for the communities they serve."