Daniall Deis Joins CRH
Aug 2, 2022
The Center for Rural Health (CRH) welcomes Daniall Deis as an education coordinator at CRH.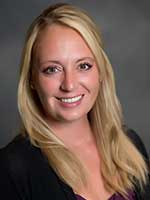 Daniall's main responsibilities fall under facilitating the North Dakota Qualified Service Provider (QSP) Hub; providing assistance and support to QSPs; and creating and implementing trainings and other learning opportunities for QSPs and individuals interested in becoming a QSP. Before joining CRH, Daniall was a special education strategist for the autism program at the Grand Forks Public School District.
Originally from Pierre, South Dakota, Daniall earned a bachelor of arts in elementary education and a bachelor of science in communication science disorders from the University of North Dakota (UND). She also completed her master of science in special education at UND and is continuing her education in applied behavior analysis.