Broadband Internet Program Helps Low Income North Dakota Households
Aug 5, 2022
The Center for Rural Health, at the University of North Dakota School of Medicine & Health Sciences, is pleased to announce the Affordable Connectivity Program is now available throughout North Dakota. The Affordable Connectivity Program is a Federal Communications Commission benefit program that helps ensure that households can afford the broadband they need for work, school, healthcare, and more.
Available Benefits
The benefit provides a discount of up to $30 per month toward internet service for eligible households and up to $75 per month for households on qualifying tribal lands. Another program benefit allows eligible households to receive a one-time discount of up to $100 to purchase a laptop, desktop computer, or tablet from participating providers if they contribute more than $10 and less than $50 toward the purchase price.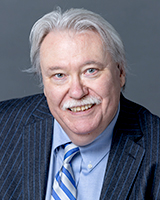 "Access to healthcare takes on new meaning in a digital age," said Brad Gibbens, acting director of the Center for Rural Health, "as we see the importance of broadband for rural and tribal communities to better access healthcare services and health information. The Affordability Connectivity Program is a significant step in leveling the playing field in rural North Dakota. In the 1930s, the federal government invested in creating access to electricity and telephones that significantly improved the lives of rural people, and now through the Bipartisan Infrastructure Act of 2021, we are again remembering the importance of rural citizens. Rural and tribal populations deserve the same treatment as urban citizens."
The Affordable Connectivity Program is limited to one monthly service discount and one device discount per household.
Eligibility
A household is eligible for the Affordable Connectivity Program if the household income is at or below 200% of the Federal Poverty Guidelines or if a member of the household meets at least one of the criteria below:
Received a Federal Pell Grant during the current award year
Meets the eligibility criteria for a participating provider's existing low-income internet program
Participates in one of these assistance programs:

The National School Lunch Program or the School Breakfast Program, including through the U.S. Department of Agriculture Community Eligibility Provision
Supplemental Nutrition Assistance Program (SNAP)
Medicaid
Federal Public Housing Assistance
Supplemental Security Income
Women, Infants & Children (WIC) Program
Veterans Pension or Survivor Benefits

Lives on Qualifying Tribal lands and participates in one of these assistance programs:

Bureau of Indian Affairs General Assistance
Tribal Temporary Assistance for Needy Families (TANF)
Food Distribution Program on Indian Reservations
Tribal Head Start (income based)
How to Enroll
It only takes two steps to enroll for this program.
Go to AffordableConnectivity.gov to submit an application or print out a mail-in application.
Contact your preferred participating provider to select a plan and have the discount applied to your bill.
Some providers may have an alternative application they will ask you to complete. Eligible households must both apply for the program and contact a participating provider to select a service plan.
Internet Service Providers
Various internet providers, including those offering landline and wireless internet service, are participating in the Affordable Connectivity Program. Find internet service providers offering the benefit in North Dakota.