Native American Veteran Stories Wanted
Oct 11, 2022
The National Resource Center on Native American Aging honors Native Elder veterans by sharing their stories of service, selflessness, and dedication. We are honored to be able to share pieces of two stories below for Lubin Hunter and Adrian Jody Edmo.
Do you have a story you'd like to share? Please send your Elder's story along with a photo, tribal affiliation, military branch, and years served to info@nrcnna.org.
Lubin Hunter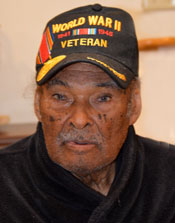 From serving as a caretaker of the Nation to director of the Senior Nutrition Program, Lubin Hunter of the Shinnecock Indian Nation served his country and Tribal nation with pride. An accomplished military veteran, Hunter turned 104 in May and is the oldest living member of Shinnecock.
Hunter lived through a period of our history where American Indians were not considered United States citizens until 1924 and enlisted in the military as "white" because there was no category for Native Americans. Despite this, Hunter served in the Army Air Corps (later known as the Air Force) as a B-17 navigator gunner during World War II.
Hunter and his late wife, Elaine, raised four children and worked in various government entities. He eventually moved back to the Shinnecock Indian reservation where he resides amongst with his growing legacy of numerous grandchildren, great-grandchildren, and great-great grandchildren.
Adrian Jody Edmo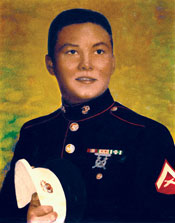 United States Marine Corp veteran Adrian Jody Edmo, Shoshone-Bannock Tribe of Idaho, served during the Vietnam War from 1967-1970.
At the age of 18, Edmo volunteered as a scout sniper. His late father, Leland Pinno Edmo, taught him to hunt and shoot at an early age which contributed to his expert marksmanship.
Edmo served in a number of operations before being wounded in March 1970. He was awarded the National Defense Service Medal, Combat Action Ribbon, a silver star in lieu of five bronze stars in connection to the Vietnam Cross of Gallantry, a bronze star in connection with the Vietnam Service Medal and a Purple Heart, to name a few.
Edmo returned home a decorated veteran with an honorable discharge in 1973. He openly shares his experiences of post-traumatic stress disorder and struggles with a controversial war. Today, he spends time in reflection, and recovery, with his wife, Nina, three children, grandchildren, and great-grandchildren.