Davis Souvannasacd Completes Indigenous Public Health Leadership Program
Jan 10, 2023

Courtney Davis Souvannasacd, outreach coordinator with the National Resource Center on Native American Aging at the Center for Rural Health, recently finished her participation in the first cohort of the Indigenous Public Health Leadership Program (IPHLP) and is featured in a promotional video about the program.
Indigenous Public Health Leadership Program
IPHLP is supported by the Centers for Disease Control and Prevention of the U.S. Department of Health and Human Services. IPHLP is a leadership training institute for emerging public health leaders working within a tribal department of health or in Indian Health Service/Tribal/Urban healthcare facilities serving American Indian and Alaskan Native communities.
The program is six months long and provides training in core public health competencies with a focus on key issues impacting tribal communities, including mental health and resilience, emergency preparedness, and increased communication and collaboration amongst stakeholders.
"From the educational trainings to the professional development project, I have tremendous gratitude for the leadership training," said Davis Souvannasacd.
Partnerships Supporting Indigenous Public Health
The National Network of Public Health Institutes Tribal Programs (NNPHI), in partnership with Seven Directions Indigenous Public Health Institute and the American Indian Public Health Resource Center, launched the first cohort of IPHLP in 2022.
Davis Souvannasacd and her colleagues were able to attend NNPHI's national conference in New Orleans and were given an opportunity for professional development. Davis Souvannasacd, along with Jamie Thongphet, Tribal Health Liaison for Spirit Lake and Sisseton Wahpeton tribes; and Sonya Abe, Tribal Health Liaison for the Mandan, Hidatsa, and Arikara Nation; organized a ribbon skirt workshop.
Culture Affects Well-Being
"When Jamie, Sonya, and I decided to do a collaborative sewing workshop for local Indigenous youth, everything fell into place," said Davis Souvannasacd. "NNPHI staff believed in our proposal on how culture and engagement ties to overall well-being, and we had tremendous support from the Grand Forks Public Schools District."
They hosted the first workshop for Native American youth in Grand Forks, North Dakota, to fantastic success.
She continued, "I have done several community engagement projects in the Grand Forks community and the ribbon skirt workshop was one of the most popular. The registration hit capacity within hours of being sent to local Native American students and their families. I hope to continue engaging the local Indigenous community members that are looking for a sense of community and belonging."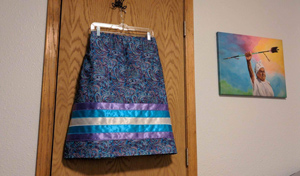 Davis Souvannasacd made her first ribbon skirt with fabric she had held onto for years, dreaming of the day she would be able to sew the garment herself. She is pleased how this project, the workshop, and the leadership program has helped her bring the culture closer to youth in her community.
Apply for Leadership Program
Applications for the next cohort are now open and eligibility includes:
American Indian and Alaska Native Tribal members residing within the U.S.
Emerging Tribal public health professionals that are in entry to mid-level positions within Tribal health or Tribal public health organizations or serving tribal populations
Previous application to 2022 IPHLP Cohort will be considered in evaluation process
Representation from smaller Tribes will be considered in evaluation process
Representation of applicants in urban areas will be considered in evaluation process
The deadline for application submission is January 30 at 7:00 pm Central. Questions may be directed to indigenousleaders@nnphi.org.