CRH Welcomes New Employees
Mar 10, 2023
The Center for Rural Health (CRH) is pleased to introduce two new full-time employees.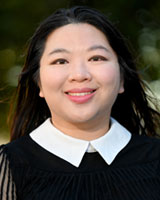 Chia-Lin Chang is a research specialist with CRH. Chia-Lin's responsibilities include data analysis for the National Resource Center on Native American Aging (NRCNAA) and assisting with the NRCNAA needs assessments.
Originally from Taiwan, Chia-Lin earned her master's degree in library sciences from the National Taiwan Normal University and a master's degree in public health and PhD in educational foundation and research from the University of North Dakota (UND). Chia-Lin also presented Cigarette and Alcohol Use by American Indian/Alaska Native Grandparent Caregivers 55 and Older at the 2022 American Public Health Association conference.
Kay Hager is a resource coordinator with CRH. Kay's responsibilities include assisting clients of the North Dakota Qualified Service Provider (QSP) Hub and inputting data to help grow the organization.
Before joining CRH, Kay worked as a training specialist at Support Systems, Inc. and as a vision rehabilitation specialist with the North Dakota Department of Vocational Rehabilitation. Kay also earned a bachelor of arts in social sciences and a bachelor of science in social work from UND.