CRH Staff Member Participates in UND Writer's Conference
Mar 16, 2023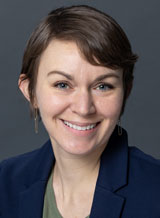 Erin Kunz, information specialist with the Rural Health Information Hub, will be participating in the 54th Annual University of North Dakota (UND) Writers Conference as part of the Voices of the Valley project.
Voices of the Valley
The Voices of the Valley is a nonprofit writing project and collection that includes creative nonfiction stories from the Red River Valley. As the creator and director for Voices of the Valley, and fellow participant, Kunz has played a large role in its success over the past nine years. "It is always exciting to be able to engage with writers in the region in such a unique way," Kunz said. "Voices of the Valley provides an outlet to express ourselves creatively while also illuminating the experiences of others."
This year's writing theme was food stories. Writers were able to use their own experiences with food to inspire their pieces. Food and nutrition are considered part of social determinants of health, which are nonmedical factors that influence health outcomes.
How to Attend
The UND Writers Conference provides a forum for those in North Dakota and the Upper Plains to discuss how the arts impact our everyday lives. The Conference will take place at the UND Memorial Union and virtually on March 23 – 25. The Voices of the Valley project submissions will be read at 6:00 pm Central on March 23. Registration is free and all events are open to the public.