American Indian Health Research Conference
"Cancer Prevention & Health Promotion Research in Indian Country"
Saturday, October 20
8:30 am - 3:00 pm
University of North Dakota
School of Medicine & Health Sciences
Grand Forks, North Dakota
The annual American Indian Health Research Conference is a daylong event featuring national speakers, researchers, students, and community members. The conference is an opportunity for students to present their research and to learn about other research happening within American Indian communities. It also serves as an opportunity for participants to network and partner with communities, tribal colleges, and researchers on other projects.
2018 Keynote Speaker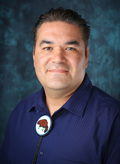 Rodney C. Haring, PhD, MSW, Dr. Haring is an assistant professor of oncology in the Department of Cancer Health Disparities Research at Roswell Park Comprehensive Cancer Center in Buffalo, New York. He is one of very few Native Americans working in the field of cancer research. Dr. Haring holds a doctoral degree in social work and is a past co-chair of the Native Research Network. He has evaluation and research experience from the University of Arizona, Mayo Clinic, Harvard Medical School, SUNY Buffalo, and SUNY Stony Brook and in the private sector. Dr. Haring is a past research advisor to the National Institutes of Health, American Indian/Alaska Native Health Research Advisory Council.
Questions?
Marv Leier
(701) 777-4205
marvin.leier@und.edu
---
Most Recent Publications
American Indian Health Research Conference
The American Indian Health Research Conference showcases all areas of health research done by students and faculty, and provides a forum for collaborating on culturally appropriate research.

Author(s): Massmann, N.
Publication: North Dakota Medicine, 40(4), 16-17
Date: December 2015
Type: Magazine

Testimony to the Indian Health Services Appropriations
Dr. Gray provided testimony on behalf of the Friends of Indian Health to the subcommittee on interior, environment, and related agencies.

Author(s): Gray, J.
Date: April 2014
Type: Testimony