Evaluation of Cardiac System of Care
The Cardiac System of Care project aims at improving the efficiency and the effectiveness of the cardiac system of care in the seven states funded by The Leona M. and Harry B. Helmsley Charitable Trust: Iowa, Minnesota, Montana, Nebraska, North Dakota, South Dakota, and Wyoming. All seven states are challenged with providing cardiac care to a small population spread across a large area. The rural healthcare delivery grants, however, allow these states to invest in initiatives to strengthen the efficiency of the cardiac system of care. One example is the investment in LUCAS® 2 mechanical cardiopulmonary resuscitation (CPR) devices, which may prove especially useful in rural areas with long hospital transportation times and stressed emergency medical resources.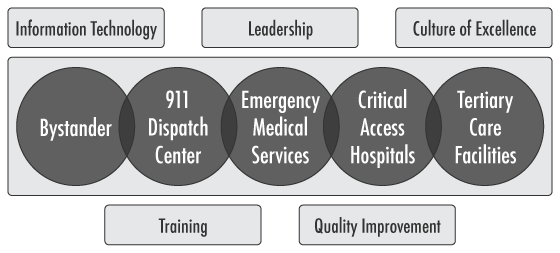 The cardiac system of care consists of many subsystems, including: bystanders, 911 emergency dispatch centers, emergency medical services (EMS), critical access hospitals and tertiary care facilities. The likelihood of surviving a cardiac arrest depends on the streamlined coordination of these subsystems. Every minute of delay in care reduces the likelihood of survival. The American Heart Association's Heart Disease and Stroke Statistics – 2013 Update states that the national survival rate for bystander witnessed out-of-hospital cardiac arrest with shockable rhythm is 28.4%. Survival rates, however, vary considerably from community to community. According to Every Second Counts. Every Action Matters. A Community Response Planning Guide for Sudden Cardiac Arrest by the Medtronic Foundation Heart Rescue Project, those survival rates range from 0% to 52%. Community initiatives improving the timeliness and the quality of the care delivered by the cardiac system of care increase survival rates.
Streamlined coordination between subsystems depends on strong leadership, highly trained staff and bystanders, interoperable information technology systems, commitment and continuous quality improvement efforts, and a culture of excellence. All of these attributes must be continually monitored and evaluated to ensure the maximal system efficiency and effectiveness.
Project Goals
With respect to the LUCAS® 2 mechanical CPR devices:

Monitor statewide distribution and share lessons learned to streamline distribution.
Evaluate trainings to ensure pre-hospital and hospital health professionals are competent and capable.
Capture the impact using qualitative methods.
Collect data on non-patient outcomes.
Provide usable recommendation reports as needed.

With respect to the cardiac care system of care:

Define system processes necessary for efficient and effective cardiac care.
Assess the system feedback mechanisms to ensure they are providing credible and timely data needed for continuous quality improvement.
Evaluate critical system attributes necessary for system efficiency and effectiveness, including: leadership, culture, training, and information technology.
Advance system evaluation theory and methods.