July 2017 Center for Rural Health Update
News
Seven Generations Center of Excellence Programs Assist Native Students
The GRE Prep, Aazhogan, and the TURTLE Programs help students prepare for graduate and undergraduate course work as they transition from rural or reservation life into life at a university.
Rural Health Research Gateway to Host Webinar
The Rural Health Research Gateway will host a webinar on July 18 at noon Central. Eric Larson, Davis Patterson, and Holly Andrilla of the WWAMI Rural Health Research Center will discuss new research pertaining to behavioral health workforce supply at the census division level.
Funding & Other Opportunities
Health IT Loans Available
The State of North Dakota Administration and Legislature is providing funding with low-interest loans to healthcare entities to build their health information technology (HIT) infrastructure. Applications are due before 5:00 pm Central on July 31.
Loan Repayments Recruit and Retain Medical Providers for North Dakota
The North Dakota Department of Health (NDDoH) and the North Dakota Center for Rural Health have partnered to provide services for workforce development and availability to improve primary care service delivery in the state.
Training Series for Healthcare Providers on Prescribing Opioids
The Center for Disease Control and Prevention (CDC) has a training series which provides information about the appropriate prescribing of opioid pain relievers and other treatment options to improve pain management and patient safety. The CDC has also created a guideline for prescribing opioids for chronic pain.
Sign Up for Gateway Research Alerts
The Rural Health Research Gateway provides access to publications and projects funded through the Federal Office of Rural Health Policy. Alerts provide periodic updates when new publications become available.
National Institute of Mental Health – FREE publications
The National Institute of Mental Health has many free publications on various mental health topics. These publications can be ordered through the Center for Rural Health, free of charge to your organization. Visit NIMH's publications page to learn more, or contact Jacque Gray at the Center for Rural Health if you would like to order any publications.
Events
Publications
Focus on Rural Health
Center for Rural Health blog which features stories about rural health leaders and people working in rural North Dakota's healthcare organizations.
Native Aging Visions
The summer 2017 issue from the National Resource Center on Native American Aging.
NIMH Outreach Partners Updates
Newsletter that features new science and services news updates, resources, and funding information.
Featured Project
Rural Health Research Gateway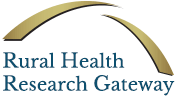 The Rural Health Research Gateway provides easy and timely access to research conducted by the Rural Health Research Centers, funded by the Federal Office of Rural Health Policy. Gateway efficiently puts new findings and information in the hands of our subscribers, including policymakers, educators, public health employees, hospital staff, and more. Subscribe to Gateway's research alerts online today.