North Dakota Brain Injury Network Receives Gibbens Memorial Grant
Nov 17, 2023

The North Dakota Brain Injury Network (NDBIN) was recently awarded a 2023 Gibbens Memorial Grant from the North Dakota Association for the Disabled (NDAD). The Gibbens Memorial Grant is an annual award of up to $5,000 given to an agency or organization to be used for health, welfare, social service, or educational purpose for at-risk populations. Three other North Dakota nonprofit organizations serving at-risk individuals also received the grant.
NDBIN will use the funds to provide a free lunch for participants in their weekly Lunch and Learn trainings, held in Fargo, North Dakota. The sessions help provide strategies to manage symptoms dealt with by brain injury survivors who are experiencing homelessness. Topics for the Lunch and Learn are selected by the participants and include sleep, goal setting, mental inflexibility, and symptom recognition.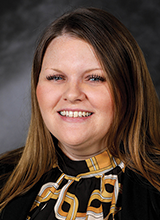 "We're thrilled to be able to keep this project going, and are hoping to expand its reach," said Carly Endres, senior project coordinator at NDBIN. "We'd like to thank NDAD for supporting our work with brain injury survivors. Lunch and Learn is a newer offering from NDBIN, but it has been very successful in meeting a gap we feel is often overlooked. Roughly 12 percent of the general population have a brain injury, but when we zoom in on special populations, the numbers go up considerably. For people experiencing homelessness, the rates are as high as 50 percent. This is a perfect way to teach about brain injury symptoms and accommodations while also filling some stomachs."