National Indigenous Elder Justice Initiative (NIEJI)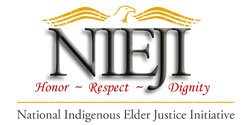 The National Indigenous Elder Justice Initiative (NIEJI) began in 2011 to address the lack of culturally appropriate information and community education materials on elder abuse in Indian Country. NIEJI's focus addresses the different types of elder abuse and provides technical assistance for the development of model tribal codes on elder abuse. NIEJI also works on the implementation of programs to address elder abuse and prevention.
Visit the National Indigenous Elder Justice Initiative at www.nieji.org
The primary legal types of elder abuse include physical, sexual, emotional/psychological, neglect, financial exploitation, self-neglect, and abandonment. Another focus of the initiative is to bring attention to the issue of spiritual abuse, and the major impact that it has on indigenous elders and their families.
During the 2014-2017 cycle of the NIEJI grant, we are developing elder abuse training modules that will be available online in a format that will be compatible with dial-up, broadband, and mobile devices such as tablets and smartphones. We continue to develop materials and welcome submission of materials and information used in your program to share with others.
Resources on the NIEJI website include:
Bureau of Indian Affairs Adult Protective Services Handbook
Interactive map with elder abuse reporting locations & phone numbers within each state, county, and tribe.
World Elder Abuse Awareness Day (WEAAD) activities and other events addressing elder abuse in Indian Country.
Presentations made at elder abuse conferences

Also available on the NIEJI YouTube channel.

Videos regarding other Administration on Community Living grants