Celebrating the Power of Rural
National Rural Health Day showcases the strengths of rural America.
By Mark Barclay on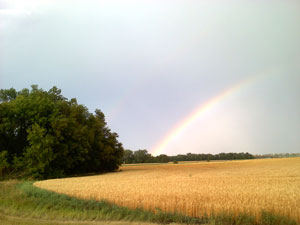 Today more than ever, rural healthcare, a major economic and quality-of-life factor in rural communities, is facing tremendous needs unique to rural areas. Health system issues like availability and accessibility to health care, workforce shortages, and reimbursement and payment structures along with population health issues such as behavioral risks, disease conditions, and health disparities are exacerbated in rural communities. While these struggles are very serious and demand complete attention, they often overshadow the tremendous accomplishments and the power of rural. Rural communities are a wonderful place to live and work, and continue to make strides even when faced against the steepest of challenges. This message is the cornerstone of what has been an annual event since 2011: National Rural Health Day.
This year, National Rural Health Day was celebrated on November 21 across North Dakota and the entire United States. First and foremost, National Rural Health Day is an opportunity to honor the selfless, community-minded, entrepreneurial spirit that resonates across rural America. Rural communities are and always have been a place where neighbors know each other and work together for the benefit of the community. Healthcare is a central part of any community, and often the largest economic driver in a rural community. National Rural Health Day is a chance to celebrate the power of rural and rededicate ourselves to ensuring that every rural citizen has access to high-quality local healthcare.
History of National Rural Health Day
National Rural Health Day was established in 2011 as an initiative of the National Organization of State Offices of Rural Health (NOSORH). NOSORH created National Rural Health Day as a way to showcase the good works of America's 59.5 million rural citizens and to promote the efforts of NOSORH, state offices of rural health, and others in addressing rural concerns. "At the same time, National Rural Health Day gives us an opportunity to raise awareness of the unique healthcare issues being faced by rural citizens, particularly a lack of health care providers and affordability issues resulting from larger percentages of un- and underinsured citizens and greater out-of-pocket health costs, to name a few," says NOSORH Director Teryl Eisinger.
State offices of rural health play a key role in the promotion and coordination of rural health across America. Each state has a federally funded state office of rural health, which can vary greatly in size and scope; however, all offices are tasked with creating partnerships, developing programs, and providing resources that help their state address the healthcare needs of its rural citizens.
The Center for Rural Health (CRH) at the University of North Dakota School of Medicine & Health Sciences, is the designated state office of rural health in North Dakota, and one of the nation's oldest and largest offices, employing approximately 51 faculty and staff and coordinating over 40 separately funded program areas to improve rural health in North Dakota and across the country. The mission of the Center for Rural Health is to connect resources and knowledge to serve the people in rural communities. In fiscal year 2012, the CRH provided assistance to 121 North Dakota communities in 47 counties and awarded approximately $924,000 in grant awards to rural health providers.
The Power of Rural in North Dakota
North Dakota has always taken pride in its rural heritage. Talk to any of the state's 362,000 rural residents and you will hear passionate stories of why rural North Dakota is a great place to live and work. Too often rural communities are viewed as remote patches of isolated farms, open and unpopulated landscape, and even quaint reminders of bygone eras. This clearly isn't the entire picture. While agriculture is a critical piece of the rural economy, there are many other large industries and small businesses that also play a central role. Rural communities also tend to strongly support local activities with a natural sense of interdependence. Attend a rural high school sporting event, theatre production, or a Native American Pow-Wow and you will see everyone in attendance from the local doctor to the mayor. This community focus builds extremely strong relationships where people aren't just acquainted but truly do care for one another.
At the heart of rural North Dakota is a vibrant and expansive healthcare system in which the state's 36 critical access hospitals (CAH) are the primary providers of care. These hospitals are classified as critical access because they have 25 beds or fewer, and are located at least 35 miles away from another facility (15 miles if the terrain is difficult). The effect of a CAH extends much beyond the hospital; it serves as a centralized hub for healthcare in its rural community. All but three of the 36 CAHs own and operate another healthcare business such as a primary-care clinic, nursing home, senior residential setting, or ambulance service. Additionally, CAHs play a large economic role in a community—contributing about $6.4 million and 224 jobs on average to the local economy.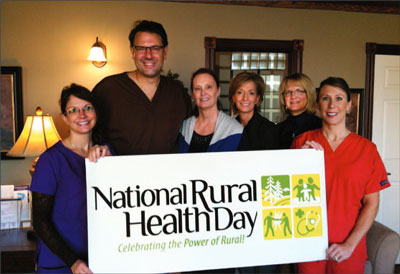 To help celebrate National Rural Health Day in North Dakota, a number of events took place across the state. November 21 was officially proclaimed National Rural Health Day in North Dakota by Governor Jack Dalrymple. In his proclamation, Governor Dalrymple touted the benefits of rural living, while recognizing the unique challenges facing rural healthcare, and acknowledging the distinct critical role played by the UND School of Medicine & Health Sciences to lead efforts to address these unique challenges. Rural healthcare organizations from Berlin, LaMoure, Edgeley, Dickinson, and Belcourt partnered with SIM-ND (Simulation in Motion—North Dakota) to offer on-site emergency training the week of National Rural Health Day. SIM-ND uses four large trucks equipped with human patient simulators to train North Dakota health care providers on emergency situations through advanced simulations.
We are so extremely blessed to have the level of dedication and commitment in North Dakota from our rural healthcare providers.
The Center for Rural Health and the North Dakota Rural Health Association also partnered to conduct the annual National Rural Health Day photo contest. Submissions were received from across the state with the subject of "What does rural mean to you?" The winner of the 2013 contest will receive a free registration to the 2014 Dakota Conference on Rural and Public Health. The Center for Rural Health and North Dakota Rural Health Association (NDRHA) also sent a thank you letter and token of appreciation to all rural North Dakota healthcare providers thanking them for their service. According to NDRHA Executive Director Kylie Nissen, "We are so extremely blessed to have the level of dedication and commitment in North Dakota from our rural healthcare providers. In addition to the doctors and nurses, many rural residents play a crucial role in maintaining access to care for their community. The overall health of North Dakota is greatly improved by their service."
Future of Rural Health
Despite the great advances being implemented throughout the state, there continues to be significant health needs in our rural communities. These needs were recently identified through a process known as a Community Health Needs Assessment. The Affordable Care Act mandates that every non-profit hospital conduct a Community Health Needs Assessment (CHNA) of the communities it serves at least once every three years. The Center for Rural Health assisted 21 of the 36 critical access hospitals in the state, and an additional 18 CHNAs were done by hospital staff or consultants for a total sample size of 39 hospitals out of 41 non-profits in the state. The CHNA process is informed by both primary (community member interviews, focus groups, and surveys) and secondary data (e.g., Robert Wood Johnson Foundation County Health Rankings, and North Dakota Department of Health population health data). Although methods differ between assessments, as a whole, the goal of the CHNA is to solicit community input on health needs and service gaps. The significant need most frequently reported in CHNAs was a healthcare workforce shortage. In 28 separate assessments, the need for more healthcare staff was expressed. The next most frequently perceived community health needs were obesity and physical inactivity (16 communities), mental health (15 communities), and chronic disease management (12 communities).
It is important to look at the identified needs not as a weakness but as an opportunity to make improvements in the health of our communities. The CHNA process is community directed and driven through community engagement techniques eliciting community input. Through the CHNA process, communities also implement a strategic action plan to take steps to address the health needs in their community. For example, if obesity/physical inactivity was identified as a major need, the community may look for opportunities to build a wellness center or walking path. Communities don't need to approach this by themselves, however. The Center for Rural Health, works with communities to build capacity and facilitate strategic planning around the identified needs and share potential resources to support implementation projects. If one rural community has had success building a wellness program, another community can learn from their efforts. This collaboration is ever present in rural North Dakota. Communities understand that they are stronger by working together, and while no community is perfect, every community has strengths.
As healthcare delivery continues to evolve, in many ways, rural healthcare facilities have an advantage as compared to their urban counterparts. The main emphasis of rural health has always been on providing affordable, team-based, primary care. This focus on patient-centered preventive care is at the forefront of many upcoming changes in payment structures enacted as part of the Affordable Care Act. Rural healthcare, like so many other things in rural America, has always focused on relationships. Healthcare providers get to know the people they care for and have the opportunity to practice more patient-centered medicine. Rural healthcare has always faced a daunting task—providing quality care with very limited resources. National Rural Health Day is one day a year to acknowledge the tremendous power of rural in spite of the enduring challenges.
This article originally appeared in the Holiday 2013 issue of North Dakota Medicine.
---