"HOSA" Spells the Future of North Dakota's Healthcare Workforce
Middle school and high school students explore becoming healthcare professionals.
By Stacy Kusler on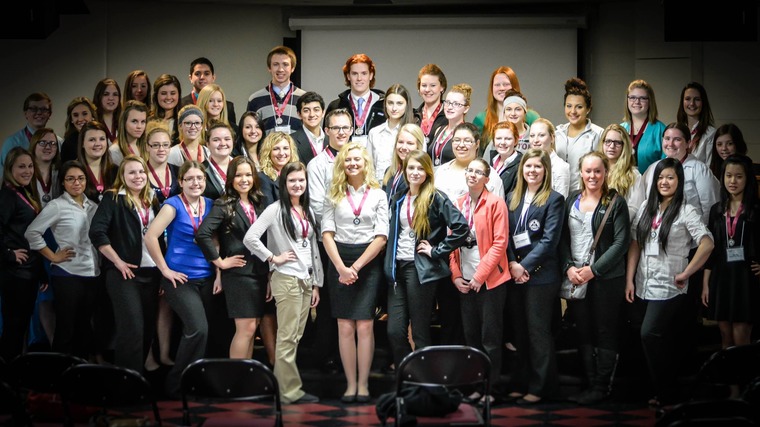 For years, the State of North Dakota and the University of North Dakota School of Medicine & Health Sciences have been working diligently to battle the state's current healthcare workforce shortage. Many of the efforts are focused on retaining our locally trained medical students by providing them with financial incentives during and after medical school. For instance, the RuralMed Scholar Program, implemented by the School in 2010, awards full tuition payment for four years of medical school to students interested in practicing family medicine or general surgery in a rural North Dakota community for five years after the completion of residency training.
The State of North Dakota has also focused on retaining medical professionals by providing and participating in various loan repayment options. Medical students enter the workforce with well over $100,000 in student loans. The State's loan repayment options were recently reevaluated and a proposal was made to expand loan repayment options to include more healthcare professions, as well as increase loan repayment amounts in order to provide incentives for graduates of a medical profession to work in North Dakota.
These efforts in retaining medical students and professionals have proved to be successful. But why stop there? A quickly growing program in North Dakota is targeting the future North Dakota healthcare workforce from a much earlier point—as early as seventh grade. HOSA-Future Health Professionals (HOSA) is a national student-led organization that focuses on providing high school students from seventh to twelfth grade with leadership development, self-confidence, social skills, teamwork, and technical healthcare skills.
A big part of HOSA's focus is on developing professional and leadership skills.
HOSA formerly stood for Health Occupation Students of America, but was changed to HOSA-Future Health Professionals in 2011 to expand the program outside of the United States, thus making the acronym obsolete but still used to identify the program. HOSA currently exists in 49 states plus the District of Columbia and Puerto Rico. North Dakota's program was established in 2011 as a result of the "grow our own" initiative of the North Dakota Area Health Education Center (ND AHEC). The implementation of HOSA is filling a large gap in healthcare career education. Currently, there are 168 public schools in North Dakota, and just 31 of those schools offer some kind of health career occupation course. Through HOSA, ND AHEC is expanding the reach of healthcare occupation education and training to produce the next generation of healthcare workers. ND AHEC supports and administers the program across the state and has been instrumental in the rapid growth of chapters and members, going from just three chapters and 33 members in 2013 to nine chapters and 206 members in 2015.
Members of a HOSA chapter are mainly students who are interested in a future career in healthcare, although it is not a requirement. Each chapter operates a little differently depending on what works for their school and community. The Grand Forks chapters at both Red River and Central High Schools incorporate their HOSA activities into the Medical Careers classes held at both schools. Dani Rowenkamp, RN, of Red River High School, and Kim Adams, RN, of Central High School, are the chapter leaders in Grand Forks. "We treat HOSA as a co-curricular activity so we hold meetings during class time," Adams said. "A big part of HOSA's focus is on developing professional and leadership skills. We consider most of what we do in class as part of HOSA."
The opportunity for learning about healthcare careers through HOSA happens on two levels: training for HOSA-sponsored competency-based competition events, and exposure to healthcare careers through clinical experiences. HOSA competitions take place at state and national levels. There are 56 competency-based competition events in six different categories, including health sciences, health professions, emergency preparedness, leadership, teamwork, and recognition. Through the chapters' regular meetings, members are able to learn about each of these categories and then focus on training for their preferred competition area. Twice annually, all of the state's chapters gather for the spring and fall leadership conferences. The spring leadership conference is when the students have the opportunity to compete in their categories. Top performers from this state competition will have a chance to compete nationally, which may provide students with additional opportunities for scholarships and internships. Grafton's North Valley Career and Technology Center hosts a HOSA chapter and prepared 13 students for the state competition at the spring leadership conference at the University of Jamestown. Valerie Heuchert, BSN, is the health sciences instructor and North Valley's HOSA chapter leader. She said her members are motivated by the opportunity to compete. "Some students actually study and try very hard to place first because they want to make it to nationals," Heuchert said.
The other level of HOSA training is through clinical experiences, which are offered slightly differently depending on the chapter. These experiences give students a chance to connect what they learn from competition training in the classroom to the actual job setting. Both Grand Forks chapters offer a nine-week clinical experience for their advanced students in a variety of healthcare job settings. Adams said the support from the Grand Forks healthcare community is key to being able to let students "try the career on" and experience the reality of it with trained professionals at their side. No matter how each chapter chooses to function, the overall goal of fueling students' interest in a healthcare career remains the same. "[Through HOSA,] the students gain a sense of what it means to be a professional and work together as members of a healthcare team. Students also get a chance to hone those valuable leadership skills such as public speaking, problem solving, and developing organizational and critical thinking skills," Adams said.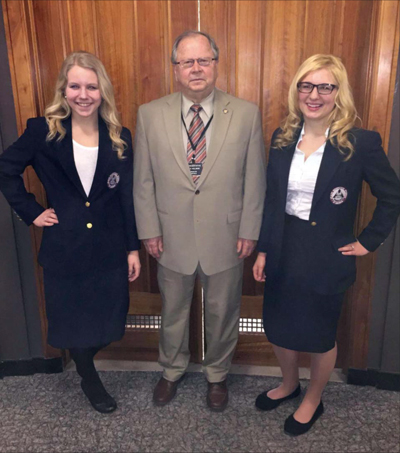 Future Impact
HOSA student members enjoy benefits such as resume building, opportunities for scholarships, collaboration with health professionals and future employers, and leadership opportunities at the local, regional, state, and national levels. And just as the student members benefit, Adams agrees that the future of North Dakota's healthcare workforce will benefit from HOSA as well. "Any exposure to the different career opportunities in the healthcare field will only encourage students to follow that career path," Adams said. "As HOSA continues to grow at the secondary and postsecondary level, we hope to see continued opportunities for students including scholarships, internships, and creating more awareness of HOSA within the healthcare community [about] how this student organization can benefit them in the long run."
Because North Dakota's program is so new, it's hard to place a number on how it has affected the workforce so far. Heuchert believes that the impact of HOSA on the state's workforce will likely be realized farther down the road. "I do believe HOSA is a great organization because it offers so many educational opportunities. Even though [some] students may not be focusing on that aspect right now, most will look back and remember what they learned to make their future career decision. I have found that most of my [HOSA] students will choose to work in the healthcare field," Heuchert said.
The more exposure students have to medical professionals, medical careers, and medical experiences, the more likely they are to choose a healthcare career.
The work of HOSA in North Dakota is important in keeping the pipeline of future medical professionals filled. Christi Miller of ND AHEC is the state adviser for North Dakota. She encourages current medical professionals to take an interest in the up-and-coming healthcare workforce by engaging in HOSA-related activities. "Support can be offered on many different levels," Miller said. "If you are willing to donate time, funds, or contribute resources for competitions and meetings, any support from the medical community will go a long way in training North Dakota's future healthcare workforce. The more exposure students have to medical professionals, medical careers, and medical experiences, the more likely they are to choose a healthcare career." To find out more about how you can contribute to HOSA events or activities, or to learn more about starting a HOSA chapter in your community, visit www.ndhosa.org.
This article originally appeared in the Spring 2015 issue of North Dakota Medicine.
---