Raising a North Dakota Healthcare Family
At home and at work, Ken and Lucille Peterson nurtured generations of doctors.
By Stacy Kusler on
Many healthcare facilities face retention of their healthcare workforce as an ongoing challenge. Even before retention becomes an issue in the professional world, it starts as an issue in the educational world. How do we keep medical students succeeding through the most challenging times of school to eventually get them to be practicing physicians in a community?
If you ask Dr. Ken Peterson that question, he will give you a knowing nod that says it's not an easy answer. Peterson experienced and observed the journeys of University of North Dakota medical students for nearly 40 years while he was a member of the adjunct faculty for the School of Medicine & Health Sciences. What Peterson will rarely admit is that he had a hand in producing many physicians and medical professionals who are practicing today just by being a supportive and understanding instructor who gave his time and energy to help students through school.
Dr. Ken Peterson ('69, '72) has always had a natural knack for being someone you can trust, someone you can talk to, someone who listens when he needs to and gives advice when he feels it's right. Maybe it's his counseling background. Maybe it's his pastoral background. Or, maybe "it just came naturally," said Peterson.
"I've always had an interest in human behavior and psychology," Peterson said. "That and I loved learning so much that I just continued going to school." Peterson is no stranger to the classroom, as an instructor or as a student.
Before attending UND, where he earned his master's and PhD in counseling and guidance from the College of Education and Human Development, Peterson graduated from Waldorf College in Iowa and St. Olaf College in Northfield, Minn. He married his wife Lucille in 1954. He became ordained as a Lutheran minister in 1962 after attending seminary. He then took a leap of faith (pun intended) and relocated his family to Grand Forks after hearing about a master's program at UND that interested him. The decision was a successful one. While completing his education at UND, Peterson opened his own private psychotherapy practice in Grand Forks. He also served as pastor for a small Lutheran church in Inkster, North Dakota, for 35 years, all while he and Lucille also had four children!
After completing his own education and beginning his own career, Peterson became an adjunct faculty member at the UND SMHS, teaching small groups of first- and second-year medical students in a patient interviewing class. It was here that Peterson's influence on retaining medical students was first born.
"Few people realized the sacrifices students had—and have—to make to pursue a career in medicine," said Peterson. "It wasn't long into that first year that some would question their decision to enter med school. Disclosing their doubts to others was not easy. Parents, family, and others were of course proud that they were 'now in med school.' Thoughts of letting others down [or] wondering if they had the ability [to continue] were truly troubling experiences for some of them."
Through these times, Peterson offered caring guidance and supportive feedback to medical students. "He was a great facilitator of these groups because he was a great clinician in private practice," said Chester Fritz Distinguished Professor Sharon Wilsnack, PhD, director of the neuroscience program for which Peterson instructed. The clinical skills he used in his private practice were useful in recognizing each person's individual way of handling problems.
Peterson was supportive of his students not only in the classroom but outside of it as well. During the middle of one particular school year, a fellow professor at the medical school passed away after a difficult battle with illness.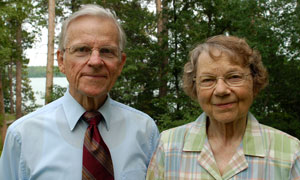 The students took the loss very hard, and Peterson was there to tend to the personal and emotional side of the loss while helping them move on and continue with medical school. On another occasion, Peterson recalled rushing downtown to the riverbank in Grand Forks to be with a student while the authorities searched the river for her fiancé, who went missing during a canoe outing. On a happier note, Peterson recalled offering his own home for a medical student to have his wedding there, which Peterson himself officiated. This wasn't the only time Peterson opened his home to medical students. One of Peterson's sons, Dr. Mark Peterson, remembered his dad inviting medical students to the house over Christmas breaks. "It gave us exposure to these students and helped create the sense that this was something that was possible for us, as well." Two of Peterson's sons later completed medical school and currently practice in Grand Forks.
For generations to come
Through Peterson's work at the medical school, he assisted numerous medical students who went on to become doctors; some still practice in North Dakota. On a personal level, Peterson passed on his love for medicine and for helping others to his four children. Two of his children graduated from the UND SMHS (Mark Peterson, MD '89; and Thomas Peterson, MD '90) and have gone on to expand the medical landscape in North Dakota. Thomas Peterson started the Richard P. Stadter Psychiatric Hospital in Grand Forks, as well as the Center for Psychiatric Care. He provides psychiatric services to these two facilities as well as to rural North Dakota and Minnesota. Mark Peterson owns and manages the Aurora Clinic, a family medicine practice in Grand Forks. He also spends part of his time providing rural North Dakota facilities with family medicine care. Ken and Lucille Peterson's two daughters, Kathryn and Karin, along with their families, reside in Colorado Springs, Colo., and Rochester, Minn., respectively.
Then and now
Since retiring from both teaching and leading church services on the weekends, Ken Peterson and his wife Lucille spend their summers at their Minnesota lake home. Ken writes books about faith and family, and Lucille edits his work. Ken is also a self-taught film and documentary maker. They enjoy tending to their rose bushes and flower beds in between the many visitors to their lake home.
This article originally appeared in the Fall 2014 issue of North Dakota Medicine.
---