Emergency Medical Services Volunteer Wears Multiple Hats
By Marv Leier on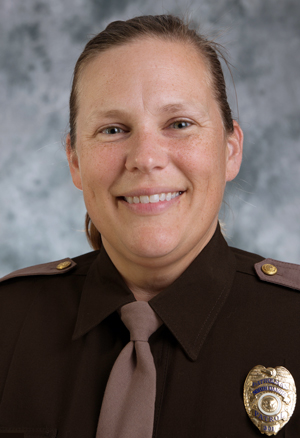 To say that Christa Sommer wears many hats is an understatement. Sommer is a North Dakota Highway Patrol (NDHP) state trooper, high school volleyball official, president of the North Dakota Trooper Association, member of the North Dakota Peace Officers Association, and secretary/treasurer of the Mercer County Peace Officers Association. And though she's got a lot going on, she still finds time to volunteer and train for the Washburn Ambulance Squad.
Sommer was recently named one of the 2017 North Dakota Safety Council's Outstanding Safety Instructors. The award is given to individuals with outstanding safety records and who have gone above and beyond to improve safety or health environments in their communities. Sommer received the award for her service and dedication to her community and for teaching Alive at 25, a defensive driving class geared toward drivers between 14 and 24 years old.
"I try to teach good defensive driving habits, so I don't have to deal with the consequences later as a trooper," said Sommer. Sommer grew up in Hazen, North Dakota. She attended North Dakota State University and received her master's in secondary education. She took a job after college as a high school teacher in Carson, North Dakota. That's where she began volunteering and training with the Carson ambulance crew as an emergency medical technician (EMT).
I always thought being an EMT would be cool and fun.
"I was drawn to it," Sommer said. "I always thought being an EMT would be cool and fun."
Even though Sommer enjoyed teaching high school, there was something about law enforcement that had fascinated her as far back as her childhood. When She heard from a local state trooper that NDHP was hiring, she decided to follow her childhood dream and apply.
Sommer's first trooper position was based out of Towner, North Dakota. When she wasn't patrolling the area, she would volunteer for the Towner Fire Ambulance and Rescue as an EMT. She eventually transferred to Washburn, North Dakota, where she currently resides and volunteers with the local ambulance squad.
"When I moved to Washburn, I didn't really know many people, so it was a good way to get involved and meet people," said Sommer.
In 2014, members of the Washburn Ambulance recognized Sommer's service and dedication to the squad and community by naming her the Squad Member of the Year.
I'm a state trooper so my time with them [Washburn ambulance] is relatively limited, but I do put in time training them.
"It's an honor," said Sommer. "I'm a state trooper, so my time with them [Washburn ambulance] is relatively limited, but I do put in time training them."
Kelli Sears, division director for the North Dakota Department of Health Division of Emergency Medical Services (EMS), said the EMS system in North Dakota relies heavily on volunteers such as Sommer. She said that, in addition to donating their personal time responding to emergencies, rural EMS professionals also dedicate time continuing their education and training.
"They want to ensure the people they serve are receiving quality pre-hospital care," Sears said.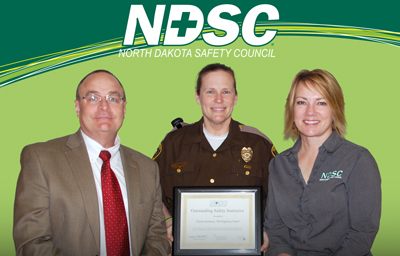 Today, Washburn's all-volunteer squad is made up of 36 people. That is twice as many as ten years ago when Sommer started with the group. That growth is something she's very proud of. She and Sears agree on how vital EMS is to the rural communities of North Dakota. Most rural areas rely on volunteers to provide emergency medical services, so proper training and education is important. Luckily, it's something she really enjoys doing.
"When I'm teaching, I'm falling back on how to be a teacher, how to present things, how to get things across," said Sommer. "As a trooper, each time I stop someone, I'm educating them on traffic laws, speed laws, or the seat belt law."
Sommer continues to wear many hats as she patrols and provides emergency medical services in the central part of the state. Along with the training she provides for the Washburn ambulance, she also teaches EMT, emergency medical responder, first aid, and cardiopulmonary resuscitation (CPR) training for the North Dakota Law Enforcement Training Academy and Highway Patrol. She said having a teaching background is helpful when training and educating emergency personnel. Whether it's patrolling or responding to an emergency, she's glad to be of service to the rural areas.
It doesn't matter which hat I have on, if I'm the EMT or the trooper at the crash scene, helping people is the reward," said Sommer. "I do both positions for the same reasons that everybody does it: to be of assistance when people need it most."
I want to help out and give back to the community. I want to make a difference.
As a NDHP officer, Sommer said she often responds to situations where both her EMT training and law enforcement experience are essential. She said she's honored to have been nominated for the Outstanding Safety Award by North Dakota Safety Council.
"I want to help out and give back to the community," said Sommer. "I want to make a difference."
---