Giving Is Receiving
A Partnership Between a Healthcare System and Its Foundation Is Key to Workforce Pipeline Stability
By Stacy Kusler on
Availability and retention of the healthcare workforce is a top concern for nearly 53% of rural hospital communities in North Dakota, according to the North Dakota Center for Rural Health's Community Health Needs Assessment data. One rural North Dakota community is taking proactive steps to ensure a healthy workforce now and in the future.
Located in southern North Dakota, the town of Hettinger has a population of 1,221. It's fewer than five miles from the South Dakota border and is 150 miles from the nearest tertiary hospital in Bismarck. West River Health Services (WRHS) operates a Critical Access Hospital and long-term care center in Hettinger and has outreach clinics in Bowman, Mott, New England, and Scranton in North Dakota and has another in Lemmon, South Dakota. The facility's total service area covers around 20,000 people.
Continuing to offer services for these communities is critically important, WRHS officials say, and to do that they continuously need to focus on recruiting their healthcare workforce.
Retirements, moves for family reasons...it's been a challenging year.
"We have had a steady 15 to 18 physicians in Hettinger, but we're closer to 11 or 12 at the moment," said Ted Uecker, Foundation Fund Development Officer at WRHS. "Retirements, moves for family reasons...it's been a challenging year."
The ebb and flow of physician workforce is not unfamiliar to rural communities like Hettinger; it is the nature of the healthcare industry today, with younger physicians typically staying in a single location for fewer years than their older colleagues did.
This is where WRHS and its partnership with its Foundation are so important. The WRHS Foundation supports WRHS and Western Horizons Care Center in providing comprehensive health and wellness services for the residents and visitors of their region. Uecker says the Foundation is keenly aware of the need for a healthy pipeline of potential employees in Hettinger and the towns that WRHS serves. This is why the funding focus in recent years has been on three major areas: the physician recruitment endowment fund, the scholarship fund, and the academic loan fund.
The physician recruitment endowment fund is a program supported by the Foundation to help supplement the cost of physician sign-on bonuses, student loan forgiveness, and even an ambassador program for experienced physicians to travel and meet with residents from around the country. This fund was the focus of WRHS Giving Hearts Day Campaign in February 2019.
"We weren't sure if the community would donate to this fund," Uecker said. "If you put equipment in front of donors, or a new building, people will dig in. The physician recruitment endowment fund is a little different in that you can't physically see what it's going toward."
The community was supportive beyond expectation for this effort.
Among their marketing efforts for the campaign, the team created a YouTube video involving community members and schoolchildren, with the message that they are looking for "top docs." The campaign raised $158,000 and will receive additional matching funds from the Impact Foundation. "The community was supportive beyond expectation for this effort," Uecker said.
Another program the foundation manages is the scholarship fund, which supports juniors and seniors in college who are pursuing healthcare degrees. The preference for scholarship awards is given to students who are from the WRHS service area, but the Foundation is also open to considering applications from individuals who are interested in serving rural areas. Historically, the Foundation provided scholarships to area high school seniors who planned to pursue healthcare degrees, but they recently re-focused on college students who are closer to graduation. "We found that students who are just entering college end up changing their mind on a degree quite a few times before landing on something they like," Uecker said.
Bailey McGee, LPN, is a past recipient of WRHS Foundation's scholarship and is now receiving funds from the WRHS Academic Loan Fund, which supports current WRHS employees working toward higher degrees or levels of training in their professions. McGee is a success story that Uecker hopes will repeat itself. McGee started working at the hospital in Hettinger as a certified nurse assistant (CNA). She moved away to earn her licensed practical nurse (LPN) degree before moving back to the area to work for WRHS again. Now, McGee is working toward her registered nurse (RN) degree while working full time.
"WRHS has been very supportive of me going to school and working full time," McGee said. "They allow me the time off I need for school, which is a huge relief."
McGee is receiving support from the foundation as she works toward her RN degree, which she says has allowed her to make her dream come true.
I have been fortunate to receive this financial support and have been so grateful that they have supported me in continuing my education.
"I have been fortunate to receive this financial support and have been so grateful that they have supported me in continuing my education," she said. The scholarship has also strengthened her ties to the community and organization. "WRHS is a great place to work and they have been very supportive of me. I have every intention of staying with WRHS after I graduate with my RN."
To train more students like McGee, WRHS recently became a satellite site for the Dakota Nursing Program (DNP). DNP is a consortium of colleges and satellite locations that educate practical nurses and associate degree nurses. In its first year now, WRHS in Hettinger is currently teaching and preparing three practical nurses. The group eventually hopes to expand its class to five students per year.
Jennifer Seamands, RN, is the satellite director in Hettinger and is excited about the possibilities that come with offering this program. "This program will very much impact our nursing workforce here," Seamands said.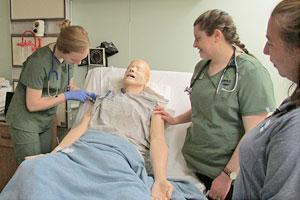 Many rural communities are offering nursing education programs, such as the one offered through DNP, because they allow interested students to earn their degrees without having to travel to another city. This removes the financial barrier associated with travel and relocation. In addition, if students have spouses and children, they don't have to worry about uprooting them. The programs offered through DNP satellites are usually only two to three days per week. This schedule allows students to continue working and earn an income while they pursue a degree.
Seamands is excited about the effect this program is having on WRHS. "We've already made arrangements for them to be employed through WRHS after they complete the program," she said.
The WRHS Foundation already has donations coming in specifically earmarked to go toward DNP student scholarships and is looking to contribute more funds toward the scholarships. Uecker and his partners within the WRHS hospital, outreach clinics, and long-term care facility know it can be difficult to find enough qualified employees in a rural area to fill the open positions at WRHS. However, with the combination of scholarships and a focus on "growing their own" from both inside and outside the organization, the future is looking very bright.
For More Information
To find out more about the programs WRHS supports, visit wrhs.com/giving.
This article originally appeared in the Holiday 2019 issue of North Dakota Medicine.
---