Making it Work in the West
North Dakota: the land of opportunity. Not just in oil work, but in healthcare as well.
By Stacy Kusler on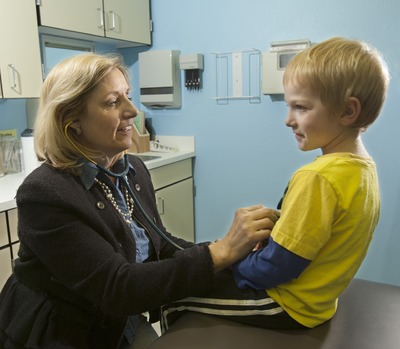 The medical communities of Williston and Watford City don't have to look very far to see the opportunities made possible by oil. "The Williston community has grown substantially, and because of that, we have been able to grow the medical services we provide as well as the facilities themselves," said Matt Grimshaw, CEO of Mercy Medical Center in Williston. A little farther down the road in Watford City, ground was broken last spring for a $59 million medical complex to support the needs of the growing community. Scheduled to be completed in 2016, the new McKenzie County Healthcare Systems campus will combine the hospital, clinic, and nursing home into one central location. Simultaneously, new high schools are being built in both Williston and Watford City. "Without the influx in population and money from oil, these upgrades would not have happened," said McKenzie County Healthcare Systems' Chief Administrative Officer Michael Curtis.
For both Williston and Watford City, expansions within their medical systems have provided the opportunity to increase and expand service lines and, subsequently, job openings. "There is a depth of resources we have not had before," said Grimshaw. "For example, we now have a full-time plastic surgeon who can do not just cosmetic things but hand surgery and reconstructive surgery. We have radiology, general surgery, orthopedics, and cardiac rehab. Without the oil boom and the population increase it brought with it, we would have never had the opportunity to offer these types of services."
With the increased variety of medical services offered at both of these hospitals, the variety of physician employment opportunities have increased as well, allowing for some providers to find work close to home. Theresa and Ryan Hegge, both natives of Williston and graduates of the University of North Dakota's School of Medicine & Health Sciences, were thrilled to be able to find jobs at Mercy Medical Center in their hometown. Dr. Theresa Hegge (MD '08), is a plastic surgeon and Dr. Ryan Hegge (MD '08), is a radiologist. "The practice opportunities for plastic surgery and radiology are good in most places at the moment, thankfully giving us some choices. We came back [to Williston] to be closer to family and to help our hometown," Theresa said.
Though Williston today is quite different now than when the Hegges were growing up, the changes have provided great opportunities for them and for patients in the community. "The changes have been immense!" Theresa said. "It has improved the specialties we can bring in to this town so more individuals can obtain the needed care closer to home. Ryan has brought the availability of many interventional radiology procedures, while adding a plastic surgery practice has allowed us to treat hand injuries, burns, skin cancers, breast issues, and facial trauma that would otherwise need to be treated in a different city. Many people have traditionally traveled great distances for specialized care, and our availability has limited some of that."
Pediatrics is also an expanded specialty in Williston because of the community's growing younger population. Pediatrician Dr. Sheila Ponzio, a native of Turtle Lake, North Dakota, and a 1988 graduate of the UND SMHS, spent her entire career after residency working in Yorba Linda, California. She moved back to North Dakota in 2013 to take a job in Williston as one of three pediatricians for Mercy Medical Center, where there are plenty of patients to go around. "We could use three more," she said. For Dr. Ponzio, moving back to North Dakota gave her medical career new life. "Working in California, everyone is so over-doctored. There are specialists for everything. The hospital I worked for didn't give privileges for me to see my patients in the hospital because there were hospitalists employed to do that. Coming to Williston rejuvenated my love for medicine. I get to do a variety of things every day in the clinic, and I get to see my own patients in the hospital," she said.
Recruiting physician workforce in the west is not any easier because of the oil boom, but it has shifted the demographic of the type of physician being sought. Grimshaw said they have changed their perspective on the type of physician they are looking for. "Our typical physician demographic from five or 10 years ago was someone who was interested in a slower paced, low-key, small-town type of practice. Now, our desired physician profile is someone who has a tie to the region, who wants to be a part of rapid growth and rapid changes, and is excited to contribute and be a part of a growing and changing community . . . someone who sees Williston in a 'Wow, look what could be' kind of light," Grimshaw said.
We came back to be closer to family and to help our hometown.
At McKenzie County Healthcare Systems (MCHS), the strategy for physician recruitment has also changed to include more specialties than just primary care. The former staffing model used all primary care providers to cover clinic, nursing home, and ER duties. Because of the growing acuteness of conditions seen in its ER, MCHS had to diversify its ER staff by moving toward primary care physicians who focus on emergency medicine rather than those with generalist tendencies in emergency medicine and chronic disease management. "We used to be able to interchange physician staff to cover the ER side and the clinic side, but the invisible line of being able to cover both sides has been crossed," said Curtis. In addition to offering more diverse physician employment opportunities, the health system's growth is attracting other professionals in the healthcare field as well. "I moved here a little over a year ago with my family," Curtis said. "I sought out this job on my own because I was drawn to the rapid growth going on." Curtis and his wife are now both employed by MCHS and are cheerleaders for the positive impact of oil. "Most rural hospitals around the country don't have such a positive story to tell. When I was looking into this job, I ultimately decided to take it because I saw optimism, a good board of directors, and a community heading in the right direction," Curtis said. "When you talk about rural hospitals, they are either growing or they're dying. There's no 'flat.' Watford City is definitely growing and that's exciting."
This article originally appeared in the Summer 2015 issue of North Dakota Medicine.
---