Recruitment Evolution
Rural areas in North Dakota have unique challenges in the changing landscape of provider recruitment. In an industry of constant change, a few North Dakota facilities were asked to share how they are adapting and still finding providers.
By Stacy Kusler on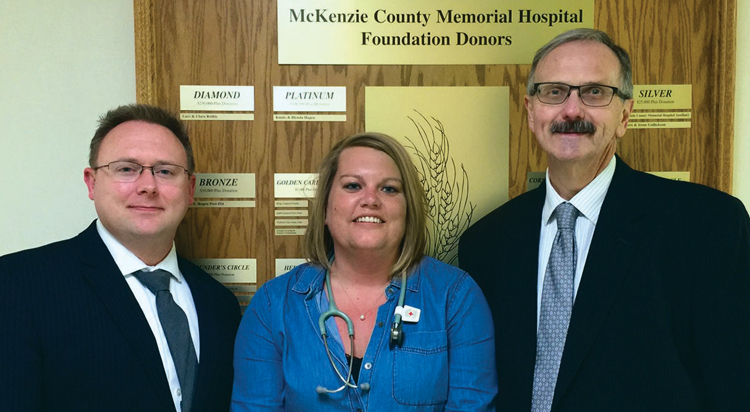 Changes and Challenges
Randy Pederson has been the CEO of Tioga Medical Center for 12 years. In those 12 years, he said they've always had an opening for a family medicine physician.
"We're always searching," he said. "You wake up thinking about how to get another doctor, and you go to bed thinking about it." Pederson said the challenges to recruiting providers to Tioga, which are consistent for many rural North Dakota communities, include climate, a feeling of isolation or being without patient care support, and distance from family. Additionally, he says more providers need to have exposure to rural areas during training to ease fears of a rural practice lifestyle. "It's hardly ever about the money. There's always another reason that prevents them from signing with us."
It's hardly ever about the money.
Common recruitment challenges often start with a lack of supply, or rather, a lack of finding the supply. In the ever-changing landscape of candidate sourcing, healthcare facilities have a hard time keeping an eye on what has become a moving target. Jill Gilleshammer, physician recruiter for Sanford Health in Fargo, said that the increased use of technology has made it both easier and more difficult to find candidates.
"Social media offers expanded avenues to reach candidates," she said. But, additionally "organizations are continually thinking outside the box to find them."
Some facilities choose to seek help recruiting in the form of professional recruitment firms. Cavalier County Memorial Hospital in Langdon researched firms with a good track record of recruiting to North Dakota's rural communities. Through this method, they were able to successfully recruit Dr. Lynne Didrikson in November of 2016. Didrikson is a Roseau, Minnesota, native and a UND Family Medicine Residency graduate (1982 to 1985). She had been working for a locum tenens company in Minnesota when she received an e-mail about the job in Langdon. She said the three main reasons she chose to take the job were that it was closer to her home in Roseau where her husband still farms, she felt needed in the community, and the salary offer was great.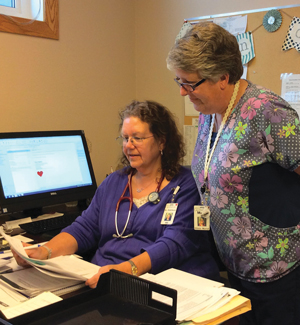 "I have always loved rural; I've always worked in rural, and this area needed me," Didrikson said.
Michael Curtis and his colleagues at McKenzie County Healthcare Systems (MCHS) have found that a homegrown approach to provider recruitment works best. Curtis joined the hospital as an assistant administrator in Watford City in 2014.
"The thing I've noticed since being here is that our operating environment is very unique," he said. Curtis said the community of Watford City is hard to explain through traditional recruitment avenues such as professional recruitment firms, which haven't produced successful results for them in the past. Instead, they have focused their efforts on candidates who have had some kind of tangible link to the region such as a provider who has worked on a short-term or part-time basis. "It takes longer, but it's better for us in the long run."
This strategy proved successful with the recent recruitment of Jessica Heggen, FNP, in October of 2014. Heggen had previously worked at MCHS as an RN. She was offered a flexible schedule while she pursued her FNP. For Heggen, whose hometown is just 20 minutes from Watford City, having a supportive work environment waiting for her upon graduation was a relief.
"Having already worked there as an RN brought a sense of comfort to me as I was already familiar with the facility," she said. "I had offers from two other rural facilities. However, I am glad that I made the decision I did, as I truly enjoy providing care to the Watford City community and surrounding area."
Recruitment Starts with Retention in Mind
Wishing, hoping, and praying are often answers provided when administrators are asked how provider recruitment is going. While that worked for one facility (more on that later), a lot of hard work goes into not only recruiting a provider, but retaining them as well. In Watford City, the administrative team goes to great lengths to ensure existing providers are happy, listened to, and able to share opinions on practice improvement. This is one of the areas Heggen appreciates most so far at MCHS. While she is happy with her employment contract, she said one thing that goes above and beyond the contract is the ongoing attentiveness from the administrative team.
"Even today, after being here for two and a half years, they continue to inquire about what they can do to improve job satisfaction." Curtis said that's all part of the plan. "It takes a lot of time and energy to recruit, so it's important that we focus on retaining our existing providers."
As for hoping and praying (not to mention an award-winning hospital and leadership), that method came to fruition for Tioga Medical Center with the recruitment of Dr. Robert Rotering in the fall of 2016. Rotering, an Amidon, North Dakota, native, had a long and illustrious career in global medicine before he decided he was ready to come back home to his rural roots. Through his search of North Dakota facilities, Rotering was impressed by Tioga Medical Center's receiving the National Rural Health Association's Top 20 Hospitals award, as well as Pederson's outstanding leadership history. Paired with a brand new clinic and a desirable patient population, it was a perfect match.
"With Dr. Rotering, it was never about the money. We offered a nice contract, but his motivation was more lifestyle and practice driven," Pederson said. Although the stars aligned just right to get Dr. Rotering to Tioga, you can be certain Pederson and his team are working hard to make sure he calls Tioga home for years to come.
This article originally appeared in the Spring 2017 issue of North Dakota Medicine.
---