What's in a Name?
High-level service is still as sweet with new name.
By Nikki Massmann on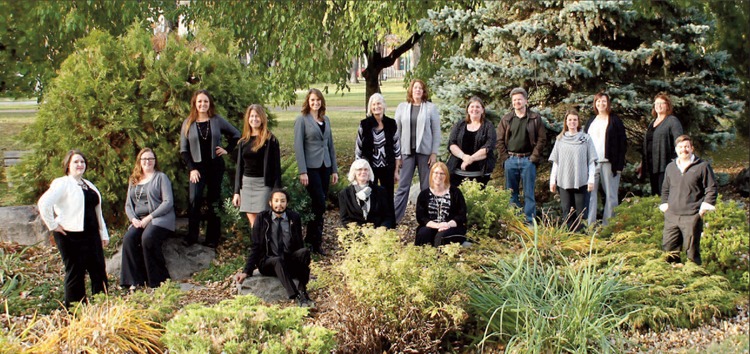 Grand Forks, North Dakota, is home to a national program with a big reputation in the rural health world. The Rural Health Information Hub (RHIhub), located in the Center for Rural Health at the School of Medicine & Health Sciences, serves as a first stop for rural health information. Customers can find current and reliable resources to help them learn about rural health needs and work to address them. Anything from topic guides to funding opportunities to toolkits are easily accessible from the RHIhub website. If customers can't find what they are looking for or aren't quite sure what it is they need, an information specialist is ready to help them.
Information specialists work one-on-one with customers through phone calls or emails. In addition to Web resources and customized searches for reliable information, the RHIhub can connect callers with an expert who can fully answer their questions and provide insight and knowledge on the specific health issue the customer wants to address.
During the course of the year, these information specialists receive around 600 phone calls requesting personalized assistance in finding resources and information on rural health. The majority of their customers work in rural healthcare facilities or not-for-profit organizations, but every once in a while a recognizable name is on the phone.
"The Office of the Vice President of the United States called us once to get some statistics," says Kristine Sande, RHIhub director. "Another time, we were listed in Newsweek as a resource for information on methamphetamine use in rural areas."
At the time of these inquiries, the RHIhub was known as the Rural Assistance Center. Its reputation was built on that name since it was established in 2002. While rebranding a reputable and recognizable name may sound like a risky idea, for the RHIhub it was essential.
It was important for our name to be descriptive of what we do.
"From the very beginning, we had calls from people who didn't really understand what we did," said Sande. "Sometimes customers were calling because they thought we were a social services organization. As time went on, the issue became more pressing, especially in terms of making sure that we rank well with Web search engines so that people working in rural health can find our resources. It was important for our name to be descriptive of what we do."
In 2015, the program received continued funding from the Federal Office of Rural Health Policy, and the Rural Assistance Center decided it was a good time to make the leap to the Rural Health Information Hub. After months of meetings, research, and preparation, the Rural Health Information Hub was officially launched in December with much fanfare. A press conference was held, and national rural health leaders from the Federal Office of Rural Health Policy and the National Organization of State Offices of Rural Health were present in North Dakota to celebrate the program's successes.
"Transitioning from one name to another was a big endeavor," said Sande. "The annual National Rural Health Day in November served as a perfect platform for announcing the name change, and to assure our customers that while they had to learn a new acronym, our services were here to stay."
And those services are in high demand throughout the nation. This demand is evident in the growth the RHIhub has experienced in the last 13 years. When the program launched in 2002, there were only a handful of temporary staff to handle the 1,200 calls they were receiving in the course of a year. Now, there are 22 full- and part-time employees involved with the program. With this growth, the RHIhub is able to provide even more resources to an even broader audience.
While it's true that the number of calls received per year has decreased, Sande said that is an indicator of success. "It means we are putting our information out there, and that it is easily accessible through our website. We've filled a gap in information available to our customers—they know where to find it on our website thanks to the work of our entire team. The Web is full of resources, but not all of them are reliable. The RHIhub staff work diligently to ensure our resources are current and credible. We are able to provide an actual person on the phone to guide our customers through what can be an overwhelming amount of information."
Talking with customers one-on-one is what keeps the RHIhub team motivated to do the work they do. They know they are making a difference in the lives of rural citizens when they hear anecdotes from rural healthcare organizations that heard about a funding opportunity through the RHIhub website or found statistics they needed to receive a grant through customized assistance from an information specialist. No matter what its name, the program will continue to serve rural communities and healthcare workers for years to come.
For more information about the Rural Health Information Hub and its resources, visit their website at ruralhealthinfo.org.
This article originally appeared in the Spring 2016 issue of North Dakota Medicine.
---