American Indian Health Research Conference
Annual conference provides forum for culturally appropriate research.
By Nikki Massmann on
The 13th Annual American Indian Health Research Conference (AIHRC) was held October 23, 2015, in Grand Forks. The conference provides an opportunity for researchers, students, and community members to learn about health research with American Indian communities across the nation. The AIHRC covers all areas of health research, including basic sciences, social sciences, public health, policy implications, health disparities, and more.
Since its inception, the AIHRC has aimed to showcase research being done by students and to discuss opportunities for collaborating on research in culturally appropriate ways. In its first year, AIHRC had about 50 attendees, and has had 125 at its highest.
"We always try to get a prominent American Indian health researcher as our keynote speaker," said Research Associate Professor Jacque Gray, PhD, associate director of Indigenous Programs at the Center for Rural Health at the School of Medicine & Health Sciences. "It helps the students that attend have a role model speaking to them. The established researchers that attend appreciate the opportunity to discuss their work with a nationally known speaker."
This year's keynote speaker was Dorothy A. Rhoades, MD, MPH, director of American Indian Cancer Research Initiatives for the Peggy and Charles Stephenson Cancer Center. As a hospitalist, she also serves as an academic faculty member in the Department of Internal Medicine with the University of Oklahoma Health Sciences Center. She is a member of the Kiowa Tribe of Oklahoma. Rhoades discussed her pilot study research on emerging patterns of behavior in American Indian youth in regard to electronic cigarette use and indoor tanning. The 2015 conference also featured a presentation on research within tribal colleges and a student research panel.
A highlight of the AIHRC each year is the Dr. Alan J. Allery Health Research Award luncheon. Alan Allery is a fallen member of the Turtle Mountain Band of Chippewa. Before his passing, he was an adjunct clinical professor at the Center for Rural Health, the director of the National Resource Center on Native American Aging, and the director of Student Health Services at the University of North Dakota. His experience included 30 years with American Indian people. After his passing, his colleagues wanted a way to honor him. He was a strong proponent of developing Native researchers, so a student research award seemed appropriate.
"We worked with Dr. Allery's wife Cathy to develop the award. We ran everything by her to make sure what we were doing reflected Alan's spirit," said Gray. "We present it to both a graduate and undergraduate student each year. Over the years, it has evolved into a prestigious recognition for the recipients. They are selected based on quality, impact, and significance of their research."
Melanie Nadeau and Amanda Young were this year's Allery Award recipients. They received their awards during the luncheon and were presented with an honor song by a drum group. All of the luncheon attendees get an opportunity to congratulate the award recipients.
Nadeau, recipient of the graduate award, has worked for 13 years as a research assistant on various projects within the American Indian community and is also a previous recipient of the prestigious Bush Fellowship, the Diversity of Vision and Experiences (DOVE) Fellowship, and the University of Minnesota Cancer Disparities Fellowship. She is an enrolled member of the Turtle Mountain Band of Chippewa, and received her bachelor's degree in psychology from UND. Nadeau has a master's degree in public health and is currently working on her doctoral degree.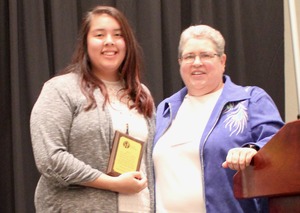 Young, the recipient of the undergraduate award, is from Dunseith, North Dakota, and is an enrolled member of the Mandan-Hidatsa-Arikara Nation. Her research focused on the psychopathic deviate (PD) scale and the disparities shown among American Indians. She found that the scale is culturally biased and found a possible link to historical trauma and how American Indian people are affected by it even today.
"It is a privilege to be presented with an award that recognizes my hard work," said Young. "My long-term goal is to help my people with my research findings. The AIHRC is important overall because of its focus on American Indian research. There really aren't a lot of people doing this type of research, and the ones that are, are making a difference. I wish there were more people that understood the importance of what we are doing. The conference provides a forum to raise awareness and get people working together."
The AIHRC focuses on American Indian health research, but it's relevant for both Natives and non-Natives. Kenneth Davis, student academic adviser for the Center for Rural Health's Indigenous Programs said, "Research can happen on the reservations in a culturally appropriate way that respects sovereignty. People have a lot of questions on protocols for research on reservations, and this conference provides information for those avenues and how it applies to each individual reservation. It brings a lot of networking opportunities for collaboration across programs and communities."
We are seeing tribes take a more prominent role in the conference and as full partners or leaders in the research.
For Gray, it has been rewarding to see how the AIHRC has grown in 13 years. "We are seeing tribes take a more prominent role in the conference and as full partners or leaders in the research. They have a stronger voice about what is and isn't being done as far as research in their communities. I have seen so much growth around these areas, and it is exciting to witness."
Goals for the AIHRC in the future are to keep increasing attendance and to provide more opportunities for audience participation. The planning committee is already making plans for the 14th Annual American Indian Health Research Conference, which takes place Thursday, October 20, 2016. The AIHRC is supported by the North Dakota IDeA (Institutional Development Award) Network of Biomedical Research Excellence (INBRE) at the University of North Dakota.
This article originally appeared in the Holiday 2015 issue of North Dakota Medicine.
---