Changing Times
As behavioral health issues arise, CRH helps rural areas tackle problems.
By Brenda Haugen on
Not too many years ago, the Center for Rural Health (CRH) at the University of North Dakota School (UND) of Medicine & Health Sciences wasn't very involved with behavioral health issues. But times have changed. As needs have grown around this issue, the number of projects the CRH is involved with has grown as well.
Behavioral health – mental health and substance use disorder – has come to the forefront as a significant health issue in the last few years.
"Behavioral health – mental health and substance use disorder – has come to the forefront as a significant health issue in the last few years," said Brad Gibbens, deputy director of the CRH. "Over the years we have done some work in this area and certainly assisted rural providers if they were developing a grant to address behavioral health. However, about five years ago, we started hearing more from a range of rural providers how behavioral health was becoming an emerging issue, a common problem. As is commonly the case, they did not have resources. They had needs but limited options to address the problem."
Not only do many communities have limited resources for prevention, treatment, and recovery, some of the socio-determinants of health are working against rural communities and contributing to the behavioral health problem, such as higher rates of poverty, lower educational attainment, high risk behaviors, isolation, higher unemployment, and an aging population, Gibbens said.
But the CRH is trying to help.
Basically, using some federal and state resources, we developed a number of programs or services.
"The CRH stepped up and started talking with other groups, including the North Dakota Department of Health & Human Services (NDHHS), our state office in charge of behavioral health," Gibbens said. "Basically, using some federal and state resources, we developed a number of programs or services. With some we take the lead. With others we are a partner organization. Some are multiple year efforts, while others are much shorter. Some are stand-alone projects, and others are behavioral health sections of a larger project."
Right now, the CRH is involved in 14 behavioral health projects that tackle everything from behavioral health workforce issues to treating opioid use disorders.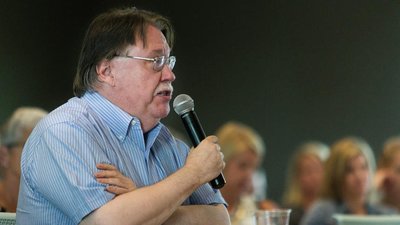 "It is not simply an urban issue, as it impacts many rural areas," Gibbens said of behavioral health issues. "Data shows that issues such as opioid abuse and heroin use is prevalent in rural regions. Rural adults have higher rates of alcohol abuse, tobacco use, and methamphetamine use.
"The CRH exists to connect resources and to increase knowledge so as to strengthen the health of people in rural and tribal communities.
Among the projects the CRH is involved with are:
Behavioral Health Workforce Development
Funder: NDHHS
This project is developing a multi-focused behavioral health workforce strategic implementation plan for North Dakota that includes provider workforce inventory, review of telebehavioral health policy, and development of behavioral health education roadmaps.
Behavioral Health Workforce Education and Training
Funder: Health Resources & Services Administration
This program develops and expands the behavioral health workforce through improved training and by providing stipends to graduate level students in UND behavioral health programs.
Evaluation of the North Dakota State Opioid Response Grant
Funder: Substance Abuse and Mental Health Services Administration (SAMHSA) administered through NDHHS
The CRH is conducting evaluation of the North Dakota State Opioid Response Grant (SORG). SORG's goal is to reduce opioid-related deaths by increasing access to treatment and recovery services, awareness and prevention, and reducing stigma surrounding opioid use disorder.
Mood Disorder Assessment Validation Study
Funder: National Institute on Drug Abuse through the Northern Plains Tribal Epidemiology Center's Native American Research Center for Health
This study addresses validation of clinical and research assessments of depression, anxiety, substance abuse, quality of life, and rumination to determine if and how they should be used with Northern Plains American Indians.
Mountain Plains Mental Health Technology Transfer Center (MHTTC)
Funder: SAMHSA
The Mountain Plains MHTTC provides resources, training, and technical assistance to mental health providers and other practitioners in U.S. Department of Health & Human Services Region 8.
National Indigenous Elder Justice Initiative (NIEJI)
Funder: Administration for Community Living (ACL)
NIEJI began in 2011 to address the lack of culturally appropriate information and community education materials on elder abuse in Indian Country. NIEJI's focus addresses the various types of elder abuse and provides technical assistance for the development of model tribal codes on elder abuse. NIEJI also works on the implementation of programs to address elder abuse and prevention.
National Institute of Mental Health (NIMH) Outreach Partnership
Funder: National Institutes of Health
The CRH is the NIMH Outreach Partner for North Dakota. Through this partnership, CRH provides free publications on various mental health topics. The Outreach Partnership also provides access to information on participating in clinical trials through NIMH.
NIEJI Innovation Grant
Funder: ACL
This Innovation Grant expands the scope of NIEJI to provide mini-grants to American Indian tribes, Alaskan villages, and Hawaiian homesteads to focus on awareness, elder abuse policy development, and infrastructure building for reporting, investigation, and intervention for Indigenous elders. It also implements the collection of Indigenous elder abuse data through the Title VI programs with a tribally based participatory research model. The data is given back to each tribe participating for use in grant development and tribal planning, and the aggregate data will be provided to policymakers and researchers. The final piece involves completing an online educational component for professionals working with Indigenous elders in Indian Country to identify, report, and develop elder abuse policies and procedures and participate in interdisciplinary elder protection teams.
North Dakota Brain Injury Network (NDBIN)
Funder: NDHHS
NDBIN provides information and support to people with brain injury and their family members.
North Dakota Primary Care Office (PCO)
Funder: North Dakota Department of Health
The PCO's mission is to improve primary care service delivery and workforce availability.

Attendees watching a Project ECHO webinar.

Project ECHO: Management of Opioid Use Disorder
Funder: SAMHSA administered through NDHHS
Through Project ECHO, the CRH is developing a broad, flexible continuum of care delivery designed specifically to treat opioid use disorders, offering both medication assisted and psychosocial treatments.
Rural Community Opioid Response Program: Planning Grant
Funder: Federal Office of Rural Health Policy
The CRH is working with consortium members in North Dakota to develop and strengthen multi-sector collaborations that will lead to targeted interventions addressing specific opioid use disorder prevention, treatment, or recovery needs in high-risk rural North Dakota communities.
State Epidemiological Outcomes Workgroup (SEOW)
Funder: NDHHS
Founded in 2006 by the NDHHS' Behavioral Health Division, SEOW's purpose is to identify, analyze, and communicate key substance abuse and related behavioral health data to guide programs, policies, and practices. The CRH develops the State Epidemiological Profile and provides ongoing consultation and support for the SEOW.
Wac'in Yeya: The Hope Project
Funder: Sanford Research - Collaborative Research Center for American Indian Health
This pilot research grant works in partnership with Oglala Sioux Lakota Housing to conduct focus groups with Lakota youth and develop creative projects about what gives them hope. The data from this project will be used to develop suicide prevention programs, provide hope to Lakota youth, and determine culturally specific causes of hopefulness.
As evidenced by the breadth of these projects, CRH staff possesses a wide range of skills to help with behavioral health issues in the state, including assessment and research, evaluation, planning, information dissemination, technology, and program development.
We don't believe we have all the answers, but we do believe we have the skills and ability to work with others, particularly people in rural areas, to develop viable solutions.
"All of these are capacities we apply through our behavioral health efforts," Gibbens said. "We don't believe we have all the answers, but we do believe we have the skills and ability to work with others, particularly people in rural areas, to develop viable solutions. After 39 years of working directly in the rural arena, we understand rural communities and providers. Rural is a different environment than urban, and our history and experience relies on building rural community capacity and transmitting skills."
And everything comes back to caring about rural communities.
"The reason for this growth [in behavioral health programs] is there is simply a lot of need," Gibbens said. "We are interested in helping."
---