The Scrubs Academy
How the Center for Rural Health is helping grow North Dakota's healthcare workforce.
By Marv Leier on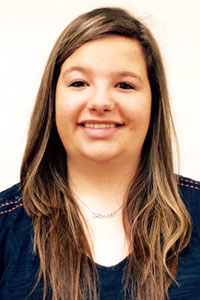 Six years ago, Emily Webb, at the time a pre-teen living in Minot, N.D., wasn't sure if healthcare was in her future. But after only one summer of participating in the Rural Collaborative Opportunities for Occupational Learning in Health (R-COOL-Health) Scrubs Academy in 2011, Webb was hooked. She said the experience got her thinking about a career in healthcare at a young age.
"Not only did I have the chance to learn about health-related fields, but I was also able to meet real healthcare professionals and other kids from across the state," Webb said of the camp. "We were able to ask them questions and learn from them as middle-schoolers, which I feel is an exceptional opportunity."
This camp was a great chance to get my feet wet regarding college.
And this fall, Webb will be attending North Dakota State University (NDSU), where she'll be majoring in biochemistry and molecular biology with a minor in biotechnology. She said the week-long Scrubs Academy, which changed her mind about a career in health, was also a good way for her to experience university life. "This camp was a great chance to get my feet wet regarding college," Webb added. "It was fun to feel mature and responsible while learning about fairly complex concepts."
Modeled after a similar project from the South Dakota Office of Rural Health, the Center for Rural Health's (CRH) Scrubs Program began in 2010. Open to any North Dakota student who has completed grade six, seven, or eight, the Scrubs Academy is a four-day/three-night camp held on the University of North Dakota (UND) campus.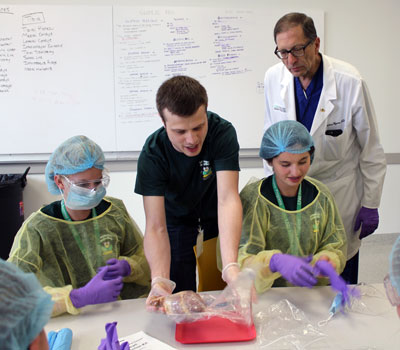 The academy is designed to be an engaging and fun way for middle-school students to learn about healthcare within a university environment.
According to Kylie Nissen, a senior program coordinator at CRH, students both get exposed to a variety of health professions and get certified in Friends and Family CPR and the Health Insurance Portability and Accountability Act (HIPAA).
"These sessions give students skills they can use even before they are in a healthcare field. Everyone should know at least the basics of CPR and how to use an AED [automated external defibrillator], and now these kids do," Nissen said. "HIPAA training teaches them the importance of patient confidentiality if they are in a health facility as an employee or when job shadowing clinicians. They also understand their rights as a patient when they see a healthcare provider." The academy is also a good outreach and recruiting program for the UND School of Medicine & Health Sciences (SMHS). Still, organizers say bringing the young students to campus for a week to learn about healthcare professions has a larger goal in mind.
North Dakota, like most rural states, has a growing need for more healthcare professionals. The Scrubs Academy is one of the ways the CRH and SMHS are working to get younger people excited about possible careers in healthcare. Both agencies hope their investment in North Dakota's youth will eventually help address the shortage of healthcare workers in the state by contributing to the ongoing Healthcare Workforce Initiative (HWI).
It's vital to start early as students develop their interests and skills.
"It's vital to start early as students develop their interests and skills," explained Lynette Dickson, an associate director at CRH. "The long-term goal is to positively impact the healthcare workforce for rural and tribal communities in North Dakota."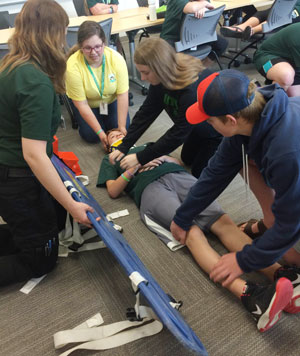 Fifty-six students and 46 professionals took part in the Scrubs Academy this year. Students experienced over 25 different healthcare professions including medicine, nursing, public health, dentistry, and occupational therapy.
This was the first year the Scrubs Academy was held in the new SMHS building. Campers, counselors, and professionals all agree that the modern building is more comfortable and has many high-tech features they appreciate.
Ben Bucher, CEO and Family Nurse Practitioner (FNP) of the Towner County Medical Center in Cando, N.D., helped at the camp this year. He believes the upgraded facility appeals to young people. He should know: Bucher spent a great deal of time in the former SMHS building (now known as Columbia Hall) as a student and faculty member. He attended UND, where he majored in nursing. He later received his FNP degree and shortly after joined the faculty of the Nurse Practitioner Program.
Bucher said the new building is an example of how the state of North Dakota is addressing the state's healthcare workforce shortage.
We have a duty to 'grow our own' healthcare professionals and we hope they will remain in the state.
"Educating the state's future healthcare providers is vital to the overall health of North Dakotans," Bucher said. "We have a duty to 'grow our own' healthcare professionals and we hope they will remain in the state. The new SMHS building is a great example of UND's and the state of North Dakota's commitment to achieving this goal."
Through the UND SMHS Health Workforce Initiative and North Dakota Area Health Education Center, CRH also supports a number of one-day Scrubs Camps held in rural communities throughout the state. The local healthcare systems, schools, and economic or job development authorities collaborate to put on these day-long events. These camps are additional opportunities for students from nearby communities to learn about health careers from local providers without having to give up time away from home. Nissen believes these mini-camps are also having an influence on the young participants.
"The Scrubs Camps give students an opportunity to see the passion local healthcare workers have for their jobs right in their own community," Nissen said. "They see what is offered in the area where they live and also learn how they can help people in their hometown and make a difference in the lives of people they care about."
CRH staff spend a lot of time preparing and organizing the Scrubs Academy and Scrubs Day Camps. They partner with local and state stakeholders who know and understand the importance of getting young people excited about healthcare professions. The staff at CRH also make a conscious effort to recruit passionate presenters and professionals who know how to connect with a younger audience.
If the majority of Scrubs students are as excited as Webb, observers can expect to see more healthcare professionals in the rural communities of North Dakota in the future. Webb is planning to follow a pre-health route in her undergraduate program at NDSU. She eventually hopes to make her way back to UND to attend medical school.
I was able to network and make contacts for the future.
"I was able to network and make contacts for the future," Webb said. "I have been coming back to the Scrubs Academy for a few years now as an assistant group leader. I am trying to give back to other young people like my group leaders influenced me. I hope to continue being part of this wonderful opportunity for as long as I can!"
This article originally appeared in the Fall 2017 issue of North Dakota Medicine.
---