The Prime of Their Lives
Health professionals and students gather for Primary Care Week at UND.
By Stacy Kusler on
The week of October 30, 2017, was Primary Care Week at the University of North Dakota (UND). Jointly hosted by the UND chapter of the American Medical Student Association (AMSA) and the North Dakota Center for Rural Health, UND Primary Care Week is part of a national effort to highlight the importance of primary care and to enable and enhance discussions among healthcare professionals about the important role of primary care in our health delivery systems.
Anna Melicher and Benjamin Prout are both second year medical students at the UND School of Medicine & Health Sciences (SMHS). Together, they lead the UND AMSA chapter and helped guide the planning of the 2017 Primary Care Week events.
"This year, we wanted Primary Care Week to be more inter-professional than in years past, and to have a variety of topics to offer the students," Melicher said.
Melicher, a Fargo native, has an interest in primary care and was excited to be part of the preparation for the week because of the potential impact it could have on the future of healthcare in the state.
Primary Care Week is important for UND because it shows healthcare students what primary care is all about.
"Primary Care Week is important for UND because it shows healthcare students what primary care is all about," she said. "We need more nurses, physical and occupational therapists, and doctors in rural North Dakota communities. The Community Meet and Greet is an especially great event for learning about rural North Dakota and what those communities can offer healthcare workers."
Throughout the week, medical students had the chance to participate in a number of different events, including a loan repayment and scholarship informational session and a presentation titled "Thinking Globally, Acting Locally," given by Dr. David Schmitz, Chair of the Department of Family & Community Medicine at the SMHS. Other events, like the Community Meet and Greet, were open to multiple health disciplines across campus. The Community Meet and Greet is the largest event during Primary Care Week. This year, 22 healthcare organizations from across North Dakota came to UND to talk with nearly 200 students from various health career programs across campus.
Organizations large and small, from as close as Grand Forks and Fargo and as far away as Hettinger and Watford City, were here for their chance to talk with students enrolled in healthcare programs and to express their need for primary care in their respective communities.
One of the healthcare organizations in attendance was Heart of America Medical Center in Rugby. Jodi Schaan, medical staff coordinator at Heart of America, drove nearly 150 miles to attend the three-hour event alongside UND Physician Assistant Studies graduate Dustin Hager, PA-C. Schaan enjoyed how engaged the students were and liked the variety of healthcare professions represented.
My favorite part was seeing students' thought processes expand as we talked.
"My favorite part was seeing students' thought processes expand as we talked. I'm sure many of these rural locations were not even on their radar prior to this event, and now they know their options for shadowing, rotations, visits, and hopefully employment," Schaan said.
The Community Meet and Greet gives students like Melicher a chance to explore potential locations for upcoming clinical rotations.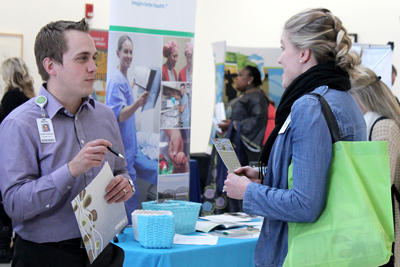 "[At the Meet and Greet] I was able to ask the rural providers about rotations and even talk with a UND graduate who had just started working at a rural clinic," Melicher said. Other health career students in attendance included those from occupational therapy, physical therapy, medical laboratory science, physician assistant studies, and graduate and undergraduate nursing programs.
Another inter-disciplinary event during the week was Screening, Brief Intervention, and Referral to Treatment (SBIRT) training. This training was offered both to medical students and Family Nurse Practitioner students, and was hosted by clinical faculty from the College of Nursing & Professional Disciplines. SBIRT training is an evidence-based practice used to identify, reduce, and prevent problematic use, abuse, and dependence on alcohol and illicit drugs. An evening primary care team panel presentation was also offered to all health profession students and included panelists from Unity Medical Center in Grafton and Sanford Health in East Grand Forks.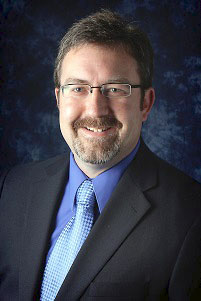 Dr. Schmitz (right) said he was able to attend most Primary Care Week events and supports the inter-professional approach students took in planning out the week. "Our primary purpose remains to educate physicians and other health professionals to enhance the quality of life here in North Dakota. Primary Care is a big part of this mission and the inter-professional teamwork we have here at the School educationally reflects what is lived daily in serving the healthcare needs of our communities throughout the state," Schmitz said.
Primary Care Week is traditionally held during the first week of the second MD block of the SMHS semester. For more information, contact Stacy Kusler at the Center for Rural Health.
This article originally appeared in the Holiday 2017 issue of North Dakota Medicine.
---