Rural Rock Stars in Standing Rock
A dentist and a doctor; young professionals committed to serving a rural community in need.
By Stacy Kusler on
As rural communities work to recruit healthcare professionals to their facilities, most undoubtedly have a "pie in the sky" goal: find a young professional who is rooted to the community through family connections and hope they stick around for a long time.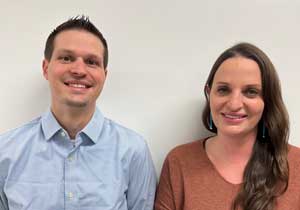 In reality, few places easily fulfill this goal, but the Indian Health Service (IHS)* hospital in Fort Yates, North Dakota, has found two such professionals. Zachary Perman, DDS, and Amber Tincher, MD, are young rural advocates serving the IHS hospital, part of the Standing Rock Service Unit in Fort Yates.
Dr. Zachary Perman
Dr. Zachary Perman is a man with a plan. From a young age, he was always thinking ahead to the future and staying ultra-focused on the things that would lead him to his goals. Hailing from Selby, South Dakota, located about 30 miles south of the North Dakota border, he knew exactly what he would be doing 15 years after high school graduation.
Perman's plan would graduate high school in 2007 and attend the University of South Dakota at Vermillion. He would then go on to dental school at Case Western Reserve University School of Dental Medicine in Cleveland, Ohio. Then, he would marry his high school sweetheart and move back home to Selby and provide dental care to his surrounding communities of McLaughlin, South Dakota, and Fort Yates, North Dakota. Check, check, and check.
Dr. Amber Tincher
Dr. Amber Tincher's interest in rural medicine began at an even younger age. Born in rural Montana, on the Fort Belknap Indian Reservation, Tincher often accompanied her grandmother, mother, and aunt to work at the Fort Belknap Indian Hospital. She spent a lot of time there as a young girl and knew that someday, she would enter the medical field, too.
When Tincher was in 3rd grade, her mother was accepted into medical school at the University of North Dakota (UND) School of Medicine & Health Sciences in Grand Forks. Tincher moved with her mother for medical school, and then to Fort Yates where her mother began working as a physician at the IHS hospital.
Throughout medical school at the University of North Dakota, I knew I wanted to practice family medicine.
When it was finally her turn, Tincher didn't hesitate to follow in her mother's footsteps and apply for medical school so she could return to provide care to her community. As Tincher explained in a video posted to the IHS website in early 2020, "throughout medical school at the University of North Dakota, I knew I wanted to practice family medicine."
Like Tincher, Perman's family is no stranger to healthcare professionals. His dad, Clint Perman, is a 2002 graduate of the UND Physician Assistant Program and provides care in McLaughlin, South Dakota. Perman's sister is also a dentist and began practicing alongside him in Fort Yates in 2020. Tincher and Perman are also similar in that they are young healthcare professionals with little to no debt remaining, thanks to scholarship and loan repayment programs through IHS.
I am 33 years old, and my debt will be wiped out within the next 6 years.
"I am 33 years old, and my debt will be wiped out within the next 6 years," Perman said. Tincher used IHS scholarships to help her pay for tuition and is already debt free; a scenario many young healthcare professionals can only dream of.
Practicing in Fort Yates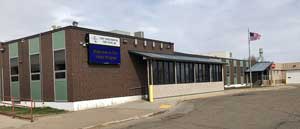 With family backgrounds in health, financial security in the form of debt forgiveness, and ties to the local area, Fort Yates certainly held the triple-threat for recruiting these two young professionals. But what began as a plan and a pathway to go back home to practice dentistry and medicine, is now a mission to serve their community of patients in the best way possible; through collaborative care and working together toward a common goal.
Fort Yates is located within Sioux County, which lies entirely within the Standing Rock Indian Reservation. The county makes up about 30% of the Standing Rock Reservation with the remainder in South Dakota. The population of Sioux County is just above 4,200 residents.
Integrated Care
According to a 2021 Rapid Community Assessment, around 32% of the population lives in poverty compared to the state average of 10.6%. A high poverty rate has a huge impact on quality of life and overall health status, which makes collaboration among healthcare providers even more important. For example, Sioux County has a high rate of diabetes.
Though Perman does not work directly with diabetes care, there are linkages between dental cases, such as periodontal disease, that can be an indicator for chronic diseases like diabetes. Perman says that improving and controlling one aspect of a person's well-being has a positive effect on other aspects. In Fort Yates, dental care is integrated into the healthcare facility, meaning Tincher and Perman have the ability to easily refer patients to each other for needed care.
The integration of dental care at the IHS allows me to provide better care to the patient.
"The integration of dental care at the IHS allows me to provide better care to the patient, as I am able to get a more accurate health history and provide better, safer care," Perman said.
As a family medicine physician who does see patients with diabetes, Tincher agrees that integrated care is good for the patient. "Ideally it would be great if every healthcare facility could have integrated dental care," she said. "Our patients benefit from direct referrals from providers to the dentist if we have concerns we'd like addressed."
Fort Yates seems to have struck gold with the recruitment of two rural rock stars, but the real winners are the patients who have these dedicated providers working together on their behalf.
*Since this article was written, Standing Rock Service Unit in Fort Yates, has recently received their Critical Access Hospital status from an Indian Health Service status.
---