Behavioral Health Bridge Helps People Deal with Challenges of COVID-19
By Jena Pierce on
During the last 11 months, the world has changed dramatically. How have people been coping? What are they worried about? Two doctors, mental health experts, and others have come together to help people deal with the challenges COVID-19 has presented. One solution?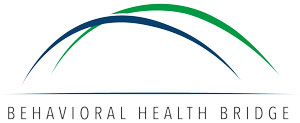 The Behavioral Health Bridge, a user-friendly website aimed at helping people experiencing common mental health conditions related to COVID-19 and promoting behavioral health treatment to address the current needs of those in the community.
The idea was developed in March 2020, during the early days of the pandemic. Dr. Andrew McLean, chair of the Department of Psychiatry and Behavioral Science at the University of North Dakota (UND) School of Medicine & Health Sciences (SMHS), and Dr. Stephen Wonderlich, vice president of research at Sanford Health in Fargo and former associate chair of Psychiatry and Behavioral Science at SMHS, had a phone conversation one Sunday afternoon.
The colleagues and friends worried about the sheer volume and validity of the information around mental health that was suddenly bombarding people. A partnership with UND and Sanford Health began and in six months, a team was put together, and a website was developed. The Behavioral Health Bridge launched to the public in September 2020.
Increased Stressors
"Dr. Wonderlich and I had a conversation about what was going on with COVID-19 and people's stresses," said Dr. McLean. "I had been on a number of calls with people across the country. The city of New York was being inundated, and people were talking about the stressors with health professionals. There were so many pieces of information coming about what could be helpful, and it was too much noise. So we talked about what would be the 'best bang for the buck' and could help in assisting the public and providers, and we landed on an idea of a web platform that was informational, educational, and based on evidence."
The two reached out to Thomasine Heitkamp, UND Chester Fritz Distinguished Professor of Nursing, and Dr. Shawnda Schroeder, associate director for research and evaluation for the UND Center for Rural Health. Together, they assembled a team of 10 individuals with experience in psychiatry, bio-behavioral research, rural health, social work, behavioral health workforce development, and behavioral health stigma. The team recognized a growing need in rural communities with little or no access to behavioral healthcare services.
When people are stressed they don't want to have to sort through a lot of information.
"When people are stressed," explained Dr. McLean, "they don't want to have to sort through a lot of information. They need specifics and things they can do immediately, to be useful."
COVID-19 Topics
Currently, the Behavioral Health Bridge focuses on five topics related to COVID-19 and mental health.
Within each topic are specific areas of stress people may want to know about at any particular moment. As an example, regarding how to cope with common worries related to COVID-19, an individual can find out how to deal with: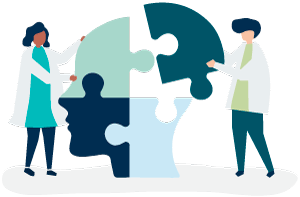 Worrying about getting COVID-19
Adjusting to changes in everyday routines
Adjusting to working and/or learning from home
Missing connection with friends and extended family
Worrying about money
Uncertainty about the future
Worrying about a loved one who is sick with COVID-19
Another topic area is support and treatment. Within that area is a section on identifying providers, which includes a Services Locator managed by the Substance Abuse and Mental Health Services Administration, and how to find a mental health provider.
Respected Resources
Evidence-based tips and recommendations are available in real time to help people deal with a variety of stressors. The easy-to-read web pages also have links to other respected sites, such as the Center for Disease Control and Prevention, the Harvard School of Public Health, and the Crisis Text Line, to name a few.
The website was originally created to assist people in North Dakota but has value to others across the country and around the world.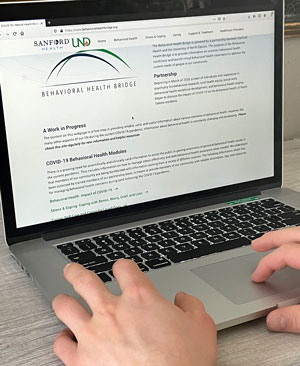 "At the moment," said Dr. Schroeder, "we are trying to focus on meeting the needs of people we know, work with, and who serve in North Dakota. Our initial goal is to make sure the website, program, and resources specifically speak to our communities in North Dakota, especially the rural communities. It is a website, and anyone can access it, so the information will have value for other states and other communities and persons living in rural areas."
In order to become a trusted source for information and resources, the team is working to safeguard that the information is correct and up-to-date.
"We want to ensure that all of the materials and information shared are clinically-validated measures," said Dr. Schroeder, "and information that is evidence-based. We have a team with clinical expertise and mental health knowledge who are able to pull in this information and ensure that it is evidence-based best practice."
New Tools
What are the newer issues that we now need to address?
"We will be keeping all of the components currently on the site," said Dr. Schroeder, "and adding resources, including individual screenings. This will allow individuals to complete a clinically validated questionnaire to determine their varied levels of potential risk for certain mental illnesses. We will continue to look at, 'What more do we need to add? What are the newer issues that we now need to address?' We are hoping with the launch of the new screening tools, we will be able to get a better idea of what the needs are of people coming to the website."
The website has been used. North Dakota has the largest audience, but people are viewing the website from all over. There have been 1,200 unique users, and the most viewed pages, other than the homepage (which has had 1,800 views), are stress and stress in coping, followed closely by the healthcare providers section.
"This website is like a pyramid," said Dr. Schroeder. "If someone wants to keep clicking links and dive deeper into the website, they can, but if they only have enough time to say, 'I am stressed, what can I do right now,' they can get that help immediately. They can find additional information if they want and have the time. This is a great place to get people started."
---