Primary Care Week 2020: Silver Linings in the (Virtual) Cloud
By Stacy Kusler on
Primary Care Week 2020 looked like many events did this year: virtual. And like many other events this year, the switch to virtual ended up being more innovative – and even fun – than many participants had anticipated.
November 2-6 marked this year's Primary Care Week, an annual event hosted jointly by the Center for Rural Health and the American Medical Student Association (AMSA). Student AMSA representatives Emily Decker and Jonah Lund, both second-year medical students, led the charge for what looked like a very different Primary Care Week than in years past.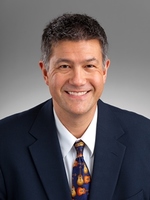 The week of events kicked off with a panel of Primary Care Department chairs from the University of North Dakota (UND) School of Medicine & Health Sciences (SMHS). Chairs from Family Medicine, Internal Medicine, Geriatrics, Obstetrics and Gynecology, Psychiatry, and Pediatrics shared their wisdom and insight into each of their respective areas of practice with audience numbers matching the 2019 in-person event. Dr. Chris Tiongson, chair of UND's Department of Pediatrics, shared his journey through practice and joined the other chairs in voicing the importance of primary care specialties as a whole.
"General pediatricians are being referred to more and more as 'community pediatricians,'" Tiongson said. "This implies that they are taking care of the health of all kids in the community, not just the kids they see [in their practice]. Advocating for kids means realizing the importance of the social determinants of health, among other things. So, by the time they are seeing Dr. [Donald] Jurivich [UND Department of Geriatrics], we have them set up on a good path."
A panel of practicing physicians from a variety of specialties, including family medicine, pediatrics, and obstetrics and gynecology, was next. Diverging thematically from the panel of department chairs, the physician panelists talked about the path each took toward their current practice, and some of the obstacles and opportunities they faced along the way. This event drew an audience of more than double the previous year, and even allowed UND occupational therapy student Rebecca Rimel from the Casper, Wyoming, campus to participate in an effort to show how occupational therapy can be a part of the primary care team.
The Community Meet and Greet, which is usually a busy and bustling event at SMHS, was another of the week's virtual events and connected students with both urban and rural North Dakota healthcare facilities. Rather than hurried conversations while standing at a booth, though, participants were able to enjoy relaxed conversations in a one-on-one virtual meeting room setting. Alan O'Neil, CEO of Unity Medical Center in Grafton, North Dakota, typically attends this event in person, but this year he decided to give the virtual event a try.
We had some great interviews, and we were really pleased with the event.
"We had some great interviews, and we were really pleased with the event," he said. "We're looking forward to following up with these students."
The week wrapped up with a session from UND SMHS alumnus Dr. Brian Skow, chief medical officer for Avera eCARE (now called Avel eCare) based out of Sioux Falls, South Dakota. Dr. Skow outlined the work that Avera eCARE is doing to assist healthcare facilities during the COVID-19 pandemic, particularly rural Critical Access Hospitals that offer almost exclusively primary care services.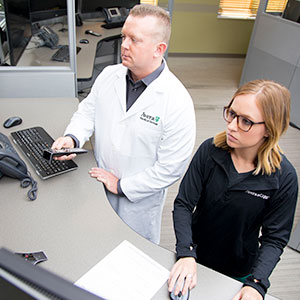 "Rural hospitals are struggling to keep patients close to home," said Skow. "Avera eCARE can help provide virtual emergency and specialty care services that will eliminate the need for patients to be transferred out of the community."
As Skow put it, telemedicine has certainly come to the forefront in the past nine months as a preferred way to provide care, particularly in states such as North Dakota and South Dakota, both of which have experienced a surge in COVID-19 cases.
Who would have thought we needed a pandemic to shine a light on what telemedicine can do to support patients in their time of need?
Expanded use of telemedicine during the pandemic has increased healthcare workforce safety, decreased the no-show rate at appointments because patients can connect from home, and preserved vital personal protective equipment, which every hospital is monitoring closely. "Who would have thought we needed a pandemic to shine a light on what telemedicine can do to support patients in their time of need?" he asked.
Celebrating Primary Care Week virtually also showed a variety of benefits for students and providers of all backgrounds. Along with introducing students to primary care professions, the week of events shared pathways to primary care careers and the resources available to primary care providers to help patients stay close to home.
Because Primary Care Week was virtual, it also was able to include a broader mix of presenters and audience members who otherwise may not have been able to attend.
---