SAMHSA Leader Talks Behavioral Health with CRH Staff
By Brenda Haugen on
Sometimes "stealing" great ideas from one place and using them to improve conditions in another is not only a great idea, it's a welcome one. Staff from the Center for Rural Health (CRH) at the University of North Dakota School of Medicine & Health Sciences were excited to share information on the many behavioral health programs available through the center with Charles Smith. Smith serves as Substance Abuse and Mental Health Services Administration (SAMHSA) regional administrator overseeing Region 8, which includes North Dakota, South Dakota, Montana, Colorado, Utah, and Wyoming.
Among the responsibilities of SAMHSA's regional administrators is to improve the delivery of behavioral health services in each of the 10 Health & Human Services regions across the U.S. A self-described "office of one," Smith visited with leaders in many of the behavioral health programs at the CRH to hear what they're doing and listen to the challenges they face and possibly use some of the solutions found at the CRH in other areas of the country. Smith also offered ideas for funding opportunities CRH leaders might be able to utilize.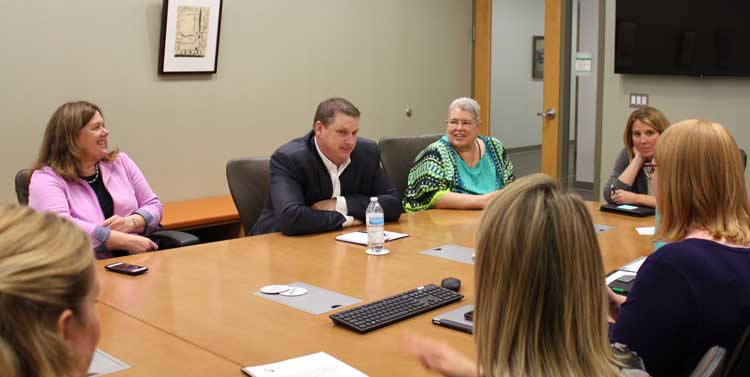 Brittany Ness, director of the North Dakota Eastern Region Area Health Education Center (AHEC), discussed an opioid use disorder grant through which AHEC was able to get some funding to help in four communities – Rolla, Dickinson, Hettinger, and Mayville. Rolla, in particular, is in need of help, Ness said, and the need is growing across the state.
"There is a lot of heroin use," she said.
AHEC's mission is to enhance access to quality primary care public health in rural and underserved areas by improving the supply and distribution of healthcare professionals through community/academic partnerships. A member of the Health Occupations Students of America (HOSA) in Montana, Smith said HOSA really is the future. An international student organization, HOSA's goals are to promote healthcare career opportunities and enhance the delivery of quality healthcare to all people.
"Let me know if I can help," Smith told Ness.
Project ECHO at the CRH is another program tackling rural addiction. The project is funded by the SAMHSA State Targeted Response on the Opioid Crisis contract with the North Dakota Department of Human Services, Behavioral Health Division. In the last two years, hundreds of people throughout the state have been educated through dozens of Project ECHO sessions, which are aimed at managing opioid use disorder, said Julie Reiten, CRH's Project ECHO coordinator. She added that they plan to address pediatric behavior health issues in the future as well.
According to Shawnda Schroeder, a research associate professor with the CRH, opioids are one component of the bigger issue of behavioral health in North Dakota. Along with serving as the principal investigator (PI) of the Rural Health Research Gateway, which studies a variety of issues including mental and behavioral health and substance use, Schroeder is the PI for the Mountain Plains Mental Health Technology Transfer Center (MHTTC). The MHTTC provides training, resources, and technical assistance to those who serve people with mental illness in Region 8.
Kristine Sande, CRH associate director, also discussed the tools available through the Rural Health Information Hub (RHIhub), a program she has directed since 2004. Among the many products available on RHIhub that address mental health are a topic guide, as well as a toolkit on substance use and behavioral health. She explained that RHIhub tries to give communities practical information to help them set up programs to address issues, such as farmers' mental health and suicide.
Certainly that's a crisis issue now.
"Certainly that's a crisis issue now," she said.
The CRH also received funding from the U.S. Department of Agriculture for a website to help communities address the opioid crisis. A searchable, timely format will make it an invaluable tool for communities, Sande said.
CRH entities, such as the North Dakota Healthcare Workforce Group, also research healthcare topics, said Sonja Bauman, a CRH research specialist. In addition, the State Epidemiological Outcomes Workgroup analyzes behavioral workforce in North Dakota and also is looking at behavioral health facilities, she said.
Workforce is one of my big areas of focus.
"Workforce is one of my big areas of focus," Smith said.
Some CRH programs also specifically tackle behavioral health with the aging population. The National Indigenous Elder Justice Initiative (NIEJI) has developed a series of training modules aimed at professionals who work with Native elders.
"Those have been very successful," said Jacque Gray, an associate director of CRH for Indigenous programs and NIEJI's PI.
Along with addressing the lack of culturally appropriate information and community education materials on elder abuse in Indian Country, NIEJI works to put programs in place to address elder abuse and prevention.
That work may be very valuable to share across the region.
While many of the programs at the CRH are designed to help North Dakotans in particular, they could translate to other areas of the country.
"That work may be very valuable to share across the region," Smith said.
---